Congressional Report Shows Some Baby Foods Contain Toxic Metals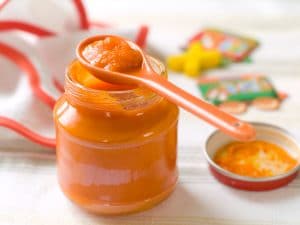 A recent report to Congress shows dangerously high levels of heavy metals, like lead and arsenic, in a variety of popular baby foods. This report, released on February 4, states that some of these baby foods contain "significant levels" of these toxic metals, which can lead to irreversible neurological damage in infants and children.
This investigation was kicked off in 2019, after reports surfaced alleging baby foods contained high levels of some toxic metals. A subcommittee of the House Committee on Oversight and Reform requested internal documents from seven of the largest baby food companies in the United States.
Dangerously high levels of toxic metals were found in infant foods, including rice cereals, juices, sweet potato puree, and snack puffs. Per the report:
the Subcommittee's investigation proves that commercial baby foods contain dangerous levels of arsenic, lead, mercury, and cadmium. These toxic heavy metals pose serious health risks to babies and toddlers. Manufacturers knowingly sell these products to unsuspecting parents, in spite of internal company standards and test results, and without any warning labeling whatsoever.
According to the internal documents the subcommittee received and reviewed, the following companies have been selling baby food with dangerous levels of these toxic metals:
Beech-Nut Nutrition Company (Beech-Nut)
Campbell Soup Company (Campbell), including Plum Organics
Gerber
Hain Celestial Group, Inc. (Hain), including Earth's Best Organic
Nurture, Inc. (Nurture), which sells Happy Family Organics, including HappyBABY
Sprout Foods, Inc., including Sprout Organic Foods
Walmart Inc. (Walmart), including Parent's Choice
These products have been sold to consumers and parents with no warning, and some companies even set their own (dangerously high) standards for toxic metals and then ignored them. Further, although the subcommittee reached out to seven companies, only four participated. The three companies that did not respond to the subcommittee's request were Walmart, Sprout Foods, and Campbell Soup Company.
Regarding the companies who did not participate, the report stated that the subcommittee was "greatly concerned that their lack of cooperation might be obscuring the presence of even higher levels of toxic heavy metals in their baby food products than their competitors' products." For example, Gerber's data revealed "that the company used rice flour very high in arsenic, carrots high in cadmium and a number of ingredients high in lead," per The Washington Post.
One of the reasons these amounts of metals are bypassing corporate policies is likely because the companies only test ingredients, and not the final products. The report noted, "In 100% of the Hain baby foods tested, inorganic arsenic levels were higher in the finished baby food than the company estimated they would be based on individual ingredient testing. Inorganic arsenic was between 28% and 93% higher in the finished products."
"Over the last decade advocates and scientists have brought this to the attention of the Food and Drug Administration," subcommittee Chair Raja Krishnamoorthi (D-Ill.) told The Washington Post. "The FDA must set standards and regulate this industry much more closely, starting now. It's shocking that parents are basically being completely left in the lurch by their government."
The Richmond injury attorneys at Phelan Petty are here to protect infants and children harmed by dangerous baby food and products. Contact us at your convenience to talk to us about your case. To set up a free case consultation, give us a call today at 804-980-7100 or use our contact form to leave us a message.