Fisher-Price Is Telling Parents Not to Use Infant Rockers as Sleepers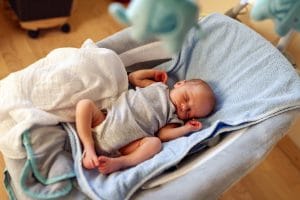 Over the past few years, millions of infant sleepers, like the Fisher-Price Rock 'n Play Sleeper, have been recalled for the risk of infant suffocation. Phelan Petty represented a family in one such case, and we are familiar with how dangerous sleeper-rockers are.
Fisher-Price, in conjunction with the Consumer Product Safety Commission (CPSC), has issued a new warning about infant and toddler rockers, which also pose a fatality risk for sleeping children. To date, Per the CPSC press release, "The U.S. Consumer Product Safety Commission (CPSC) and Fisher-Price are alerting consumers to at least 13 reported deaths between 2009 and 2021 of infants in Fisher-Price Infant-to-Toddler Rockers and Newborn-to-Toddler Rockers. Rockers should never be used for sleep and infants should never be unsupervised or unrestrained in the Rockers" (emphasis added).
Since the initial infant and toddler rockers made it to market in the 1990s, Fisher-Price has sold more than 17 million units. The company has recalled about 4.7 million Rock 'n Play Sleepers, but has not issued a recall for the Infant-to-Toddler Rockers nor the Newborn-to-Toddler Rockers.
If you use an infant or toddler rocker:
Supervise your child at all times.
Always use the restraints in the rocker.
Never allow your child to sleep in the rocker.
If your toddler or infant sustained injury, contact us in Richmond today to tell us your story.
Why are infant and toddler rockers so dangerous?
Infant and toddler rockers are chairs which sit on inclined bases, and rock your child. They are sometimes called sliders or gliders. What makes them dangerous is that incline. Healthline explains that "because of the angle created by an inclined sleeper, the risk is that your baby's airway can become obstructed. This can include their heads slumping forward in a chin-to-chest position that can make breathing difficult."
There is also a risk that your baby or child could roll over into the sleeper, even if he or she is strapped in. This can also cause obstruction of the airways, leading to suffocation. It is also possible that oxygen deprivation from obstructed airways can lead to permanent brain damage. These sleepers and rockers can also cause neck injuries and head injuries if your child manages to turn him or herself around in the rocker.
In 2019, Consumer Reports issued an open letter about sleeper rockers, claiming "infant inclined sleep products are inherently unsafe and are linked to at least 73 infant deaths," and urging retailers to stop carrying these products. Per the American Academy of Pediatrics, infants especially should sleep completely on their backs on a firm surface with only a fitted sheet to avoid any risk of suffocation.
The "Safe Sleep for Babies Act of 2021" could save lives – but be cautious
Congress first started trying to ban the sale and manufacture of infant sleepers in 2019; on May 6, 2022, the "Safe Sleep for Babies Act of 2021" was signed into law by the President. Under the new law, infant sleepers with an incline of more than 10 degrees will be considered a "banned hazardous product." The new law also bans crib bumpers. It goes into effect 180 days after the signing, which means on November 12, 2022, it will officially be illegal to manufacture and sell these specific products in the U.S.
However, it is important to note that not all products will fall into these categories – note that toddler rockers are not included – and not all companies will be scrupulous about their products, either. The language of the law (emphasis added) says that '''inclined sleeper for infants'' means a product with an inclined sleep surface greater than ten degrees that is intended, marketed, or designed to provide sleeping accommodations for an infant up to one year old." We have no doubt that for some companies, it will be less expensive to rebrand their sleepers as something else, and claim that their products are NOT "intended, marketed, or designed" to help your infant sleep.
This is why we urge parents to remain cautious, and to stop using rockers and sleepers altogether. It is safer and healthier for your babies to sleep on their backs.
Should I return my infant or toddler rocker?
If your child is happy, healthy, and uninjured, then yes – you should return your rocker. However, if your child has sustained injury in any way, do not return your rocker. Should you decide to file a product liability claim, the rocker will be evidence in your case.
Phelan Petty is based in Richmond and serves all of Virginia. If your child sustained injury related to a toddler or infant rocker, we want to help. Please call 804.980.7100 or fill out our contact form to schedule a free initial consultation with an experienced injury lawyer.