Proving Defective Product Cases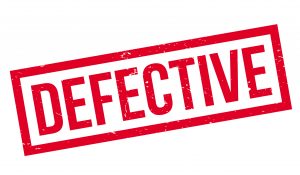 Under Virginia tort law, there is no strict liability. Recovery for product related injuries or property damage turns on proving that the product, as designed, manufactured, or labeled, is unreasonably dangerous for its reasonably foreseeable uses. Liability for unreasonably dangerous products may be based on multiple legal theories. Most product liability cases in Virginia are based on negligence and/or breach of warranty. Products may be "unreasonably dangerous" by virtue of improper design, manufacture, or assembly or because of a failure to give adequate warnings or instructions.
Theories sounding in negligence and warranty are not mutually exclusive; the same incident may give rise to a cause of action for negligence and breach of warranty. However, the causes of action include distinct elements of proof and different available defenses. Negligence claims are concerned with the conduct of the defendant and the plaintiff while breach of warranty claims focus on the condition of the product. Virginia is one of a small number of states that recognizes the legal theory known as contributory negligence. If a plaintiff is found to be negligent in connection with his use of the product and that negligence is found to be a proximate cause of the plaintiff's injuries, by operation of law, the plaintiff is barred from recovery. This is a harsh outcome that would not occur in comparative negligence states, which, as the term suggests, compare the negligence of the parties and determine awards based upon percentages of negligence.
In a case where there is a risk of a finding of contributory negligence, it makes sense to allege only breach of warranty. Neither the defense of contributory negligence nor the defense of assumption of risk applies to breach of warranty cases. The defenses to breach of warranty are unforeseeable misuse of the product and open and obvious defects.
If you or a loved one has sustained injuries because of a defective, unreasonably dangerous product, the Richmond product liability attorneys as Phelan Petty can help. We are committed to protecting the rights and livelihood of consumers who have incurred injures from products either designed or manufactured incorrectly. We can effectively investigate your case and hold to account those responsible for your injuries and losses. To arrange a free, no-obligation consultation, please call 804.980.7100 or reach us through our contact form. We represent plaintiffs throughout Virginia.