The Truck Safety Coalition Opposes the TRUCKS Act of 2022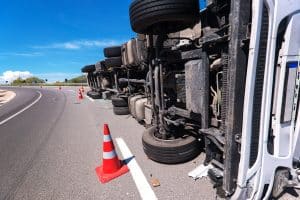 A new bill introduced by two senators is causing quite a stir. Currently, anyone who wants to drive a truck must undergo special training to obtain a Commercial Drivers License. Fully loaded commercial vehicles weigh upwards of 80,000 pounds, and operating one of these vehicles is a significant responsibility. Even with the proper training, the roads are dangerous, and truck accidents are prevalent.
Notwithstanding  these  increased dangers, the new TRUCKS Act of 2022 removes training requirements for commercial truck drivers who are employed by small businesses. If this bill becomes law, such truck drivers will be required to have only minimal training before they get behind the wheel. Various agencies concerned with traffic safety have concluded that there is a truck fatality crisis.
Critics of the Act worry that the removal of Entry Level Driver Training (ELDT) will result in less experienced truck drivers on the road and an increase in fatalities. The National Highway Traffic Safety Administration (NHTSA) reports that over 5,600 people died in large truck accidents in 2021 even during a period when there was significantly less vehicle traffic due to the pandemic.
A study by the IIHS finds that 97% of the victims of truck accident fatalities are occupants in passenger vehicles. Now that the pandemic is over, the number of fatalities from truck wrecks will rise with the increased volume of automobiles on the highways.
Causes of Richmond truck accidents
Commercial truck drivers have a huge responsibility when operating a commercial truck, which is why they must have essential training regardless of the size of their trucking company employer. Among the most common causes of Richmond truck accidents are:
Truck rollovers
Reckless driving
Dangerous roadway conditions
Overloaded trucks
Road debris
Fatigue
Tire blowouts
T-bone
Jackknife
Underride
Trailer detachment
Truck accidents can cause serious, life-altering injuries
The size of commercial trucks makes injuries worse than accidents involving passenger vehicles. There are an estimated 147,000 injuries each year due to commercial truck accidents. Injuries include:
Paralysis
Broken bones
Neck and back injury
Nerve damage
Lacerations
Severe injuries require extensive diagnostic tests and medical attention. You will likely be unable to work while you recover. If you cannot work, you cannot provide for yourself or your family and can even lose your job and benefits.
Who is liable for a truck accident?
Truck accident claims are more complex than passenger vehicle claims. The truck broker, the shipper and other parties who may share responsibility for a truck accident include:
Truck driver
Trucking company
Owner or lessee of the truck
Truck manufacturer
Loading company
Maintenance company
Truck accident cases are complex and require an experienced truck accident attorney. Victims deserve a Richmond-based truck accident lawyer on their side who understands federal trucking regulations and state law, and how to apply them to their cases.
At Phelan Petty, we have been handling catastrophic truck accident cases for decades. One of our Richmond truck accident lawyers can help injury victims determine their legal rights and get compensation for the injuries or the loss of their loved one. Our main office is in Richmond, but we help clients throughout Virginia. Call us today at 804-980-7100, or complete our contact form.