Truck Accidents Are Deadlier for Occupants of Passenger Vehicles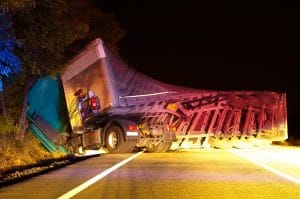 Long haul trucks deliver most of the goods consumers purchase and find in stores. America's reliance on these trucks means that passenger vehicles share the roads each day with numerous tractor-trailers. While these heavy trucks are critical to commerce and maintaining the supply chain, their enormous size and weight pose an ongoing, potentially fatal danger to occupants of smaller passenger vehicles hit by trucks in truck accidents.
According to the American Trucking Associations, trucks transport more freight than any other method of domestic transportation. Trucks transported 72.5% of goods, or 11.84 billion tons of freight in 2019, and in spite of the COVID pandemic in 2020, trucks moved 10.23 billion tons of goods. To put these numbers in perspective, trucks haul about 30 pounds of goods for each person in the United States every year. Most local food stores would run out of food in about three days without trucks.
The U.S. Bureau of Labor Statistics reported 1,951,600 heavy and tractor-trailer drivers were employed to transport these goods in 2021; Virginia is home to some 41,150 truck drivers. Large trucks made up 5% of all registered vehicles in 2019 but logged 9% of vehicle miles. Heavy trucks log about 300 billion miles per year on the roads.
Why are heavy trucks so dangerous?
Gross Vehicle Weights up to 80,000 pounds, longer braking times, higher ground clearance, and driver error due to drowsiness make heavy trucks and tractor-trailers physically dangerous to other vehicles, but especially to passenger vehicles. The Insurance Institute for Highway Safety (IIHS) and The Highway Loss Data Institute (HLDI), an "independent, nonprofit scientific and educational organization dedicated to reducing deaths, injuries and property damage from motor vehicle crashes," issued "Fatality Facts 2019 Large Trucks" in March 2021.
The report analyzed U.S. Department of Transportation data on truck accidents, finding 11% or 4,119 of the 36,096 total motor vehicle accident fatalities, for that year occurred in large truck accidents. While the analysis recognized 29% of the fatalities were either truck drivers (16%), or motorcyclists, bicyclists, and pedestrians (13%), the occupants of passenger vehicles suffered the most fatalities.
The report explained "[m]ost deaths in large truck crashes are passenger vehicle occupants of passenger vehicles. The main problem is the vulnerability of people traveling in smaller vehicles. Trucks often weigh 20-30 times as much as passenger cars and are taller with greater ground clearance, which can result in smaller vehicles underriding trucks in crashes."
The IIHS and HLDI analysis indicated that the weight and size of heavy trucks and tractor-trailers made them lethal to the occupants of passenger vehicles in accidents:
67% or 2,757 of the 4,119 fatalities in large truck accidents were occupants of passenger vehicles,
97% of vehicle fatalities were occupants of passenger vehicles in two-vehicle accidents involving a passenger vehicle and a large truck,
12% of all passenger vehicle occupant fatalities, and 22% of passenger vehicle occupant fatalities in multiple-vehicle accidents occurred in accidents with large trucks,
74% of fatalities in large truck accidents involved tractor-trailers, while 28% involved single-unit trucks, and some involved both.
The analysis showed the occupants of passenger vehicles clearly suffered the most fatalities in accidents involving large trucks.
The IIHS and HLDI report also analyzed the locations of truck accidents resulting in passenger fatalities. Surprisingly, 66% of fatal large truck accidents happened on roads other than highways and interstates. Fifteen percent of truck accidents occurred on minor roads, while 51% took place on other major roads. Only 34% of heavy truck accidents occurred on highways and interstate roads. These statistics indicated that rather than reducing the possibility of being involved in a fatal truck accident by avoiding highways and taking local roads, passenger vehicles taking smaller roads might actually increase the possibility of being involved in such an accident.
How can drivers of passenger vehicles protect themselves from heavy truck accidents?
Drivers of passenger vehicles should be aware that because drivers of heavy trucks sit so high in their cabs, they have four large blind spots or "no zones" around their trucks: directly in front and in back of the truck, and on the right and left sides of the truck.
According to the Virginia Tech Transportation Institute, the truck driver's inability to see surrounding vehicles driving in no-zones means a vehicle in a no-zone "essentially disappears from the truck driver's view," and "one-third of fatal crashes between cars and trucks occur in these four blind spots." Vehicles driving in the no-zone are at risk if the truck changes lanes or turns, needs to maneuver, speed up, or slow down. Passenger vehicle drivers should be aware that if they cannot see the truck driver in the truck's side mirror, the driver cannot see the passenger vehicle.
To avoid injuries or fatalities from truck accidents, the Virginia Tech Transportation Institute also recommends drivers should:
Learn and avoid the blind spots and "no-zones" on tractor-trailers,
Avoid "hanging out" in no-zones,
Avoid cutting trucks off,
Maintain a safe following distance,
Always pass trucks on the left, and
Allow trucks plenty of room to maneuver when turning or changing lanes.
In spite of taking precautions, if you and/or a family member suffers a devastating injury in a truck accident, or a family member is killed in a fatal truck accident, you will need to consult an experienced injury attorney to investigate and protect your interests.
If you have suffered from a preventable accident caused by a large truck, Phelan Petty can help. Our Richmond-based truck accident attorneys can protect you after an accident with a commercial vehicle. We have the experience to take on trucking companies. We will fight for monetary compensation for your injuries and losses. To learn more about how we can help you, please call 804-980-7100, or fill out our contact form. We serve clients in Richmond and throughout Virginia.