Why Car Accident Deaths Drastically Increased During the Pandemic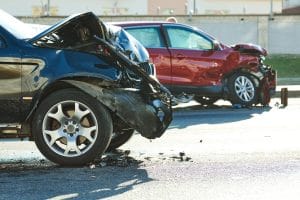 Much of our behavior as Americans changed when the pandemic hit in early 2020. Stay-at-home orders decreased the amount of traffic on roads and highways, and experts predicted fewer car and truck accidents. However,  while Americans did indeed drive fewer miles, road fatalities actually increased.
The National Highway Traffic Safety Administration (NHTSA) attributed this rise in fatalities to factors like failure to wear a seatbelt, reckless driving, speeding, and driving under the influence. They noted that during the pandemic, many drivers involved in fatal accidents engaged in risky behavior. Ken Kolosh of the National Safety Council told the Los Angeles Times, "This was completely unprecedented. We didn't know what was happening."
One theory was that, due to the stress of the 2020 pandemic, drivers were taking out their anxieties and frustrations on the open road. Safety experts assumed that, in 2021 as traffic patterns returned to normal, fatal accidents would drop. Unfortunately, as Kolosh continued, this was not the case. "I fear we've adopted some really unsafe driving habits, and they're going to persist," he said. "Our roads are less safe than they were pre-pandemic."
The numbers don't lie: 2021 saw more fatal car accidents, too
According to a recent NHTSA report, the first six months of 2021 represented a staggering increase in car accident fatalities across the country. The study shows 20,160 motor vehicle fatalities in the first half of the year, which is a more than 18 percent jump than the first half of 2020. It is also the highest number of fatalities recorded in the first half of the year since 2006, as well as the "highest half-year percentage increase in the history of data recorded by the Fatality Analysis Reporting System (FARS)."
The NHTSA's Behavioral Safety Research Division also released a report examining the behavior of drivers involved in pandemic-era fatal crashes. They stated that nearly two-thirds of seriously injured drivers tested positive for "at least one active drug, including alcohol, marijuana, or opioids between mid-March and mid-July 2020." They also noted a correlation between increased alcohol and marijuana sales during the pandemic – while not a direct cause – that may indicate social changes and attitudes reflected on the road and highways.
"It's very aggressive. It's very selfish."
Some blame this rise in fatal accidents on what the Los Angeles Times refers to as a "national decline in civility" brought on by the mental stress of the pandemic. Says Jonathan Adkins, executive director of the Governors Highway Safety Association, "Anecdotally, we hear from governors' offices around the country that it's a symptom and a sign of the overall lack of consideration we're showing for other citizens, whether it be wearing masks, or not getting vaccinated, or how we drive. It's very aggressive. It's very selfish."
Although many states have laws against street racing and other similar offenses, an issue that cropped up on empty roads during the pandemic, other states failed to take action. Here in Virginia, motorists can travel up to 85mph before being issued a citation for reckless driving. Virginia also saw 838 motor vehicle fatalities in 2020, up from 821 in 2019.
Further, a September 2021 report showed that American motorists surveyed are now more willing to engage in risky driving behaviors like speeding and drinking and driving.
What types of accidents and fatalities increased during the pandemic?
According to the NHTSA's report, four demographic groups experienced the biggest increase in fatalities in 2020: passenger vehicle occupants, pedestrians, motorcyclists, and bicyclists. They also report the largest increases compared to 2019 in accidents involving:
"non-Hispanic Black people (up 23%);
occupant ejection (up 20%);
unrestrained occupants of passenger vehicles (up 15%);
on urban interstates (up 15%);
on urban local/collector roads (up 12%);
in speeding-related crashes (up 11%);
on rural local/collector roads (up 11%);
during nighttime (up 11%);
during the weekend (up 9%);
in rollover crashes (up 9%);
in single-vehicle crashes (up 9%) and;
in police-reported alcohol involvement crashes (up 9%)."
Some types of fatal crashes are expected to decline, however. These include deadly crashes with commercial trucks (projected to decline two percent) and traffic fatalities among senior citizens (projected to decline by nine percent).
How a Richmond-based car accident attorney can help
After a serious car accident, you are likely wondering about your rights – especially when injured by a reckless, drunk, or distracted driver. When a careless driver makes the choice to get behind the wheel and drive in a way likely to cause a crash and injuries, an experienced car accident lawyer can help you understand and assert your rights.
An experienced attorney can help you secure and maximize your compensation after you or a loved one suffer injury in a car accident. Your legal team can assist you in:
Thoroughly investigating your case
Properly collecting and preserving evidence related to your accident
Contacting and interviewing important witnesses
Assessing your medical records and documentation
Negotiating and communicating with the insurance company
If we cannot negotiate a favorable settlement or resolution to your case, the attorneys at Phelan Petty are ready to go to court on your behalf to secure the compensation to which you are entitled. This can include medical expenses, lost wages and future earning capacity, pain and suffering, and more.
The Richmond-based injury lawyers at Phelan Petty are here to help when you have been hurt in a car or truck accident. We have the resources, knowledge, and experience you need on your side after a serious crash or collision. Talk to us today about how we can help you with your case. We are proud to serve clients in Richmond and throughout Virginia. To set up a consultation, call 804-980-7100 or fill out our contact form today.