Why Virginia's Pedestrian Death Tolls Are Rising as Traffic Fatalities Decline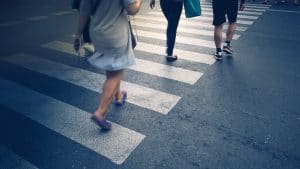 In 2010, traffic fatalities across the country fell to the lowest rates in over 60 years. This was hailed as a major victory for the National Highway Traffic Safety Administration (NHTSA). The federal agency credited a combination of education and safety programs, stricter laws and enforcement, and safer vehicles for the reduction. Of course, these are national trends built on averages over time; the simple nature of averages means that while overall fatalities declined, some types of accidents became more fatal while others dramatically decreased.
One of the more disturbing trends that came out of the data was that pedestrian deaths were increasing even as overall highway deaths were decreasing. Further, they were becoming disproportionately more common than any other type of fatality. To understand the size of the issue, we turn to the Governors Highway Safety Association's (GHSA) 2019 report on Pedestrian Traffic Fatalities by State. This report, based on preliminary data, found that pedestrian deaths began increasing sharply in 2015, a trend that shows no sign of slowing as of today. From the report:
During the 10-year period from 2009 to 2018, the number of pedestrian fatalities increased by 53% (from 4,109 deaths in 2009 to 6,283 deaths in 2018); by comparison, the combined number of all other traffic deaths increased by 2%. Along with the increase in the number of pedestrian fatalities, pedestrian deaths as a percentage of total motor vehicle crash deaths increased from 12% in 2009 to 17% in 2018. The last time pedestrians accounted for 17% of total U.S. traffic deaths was over 35 years ago, in 1982.
Virginia as a whole and Richmond in particular are no exception to this worrisome trend. The Richmond Times-Dispatch wrote in March that, while 2018 was the most dangerous year for pedestrians in the region, "Last year [2020], however, was the deadliest with 32 fatalities and 52 seriously injured in Richmond and the counties of Chesterfield, Hanover, Henrico, New Kent, Powhatan, Goochland and Charles City." This means that pedestrians deaths actually increased despite fewer cars on the road amid travel restrictions stemming from a global pandemic.
Pedestrian accidents vs. pedestrian deaths: what the numbers say
The numbers speak for themselves; pedestrian fatalities are definitely on the rise. However, a simple exercise in perspective raises some serious questions. First, let's consider that "overall highway deaths" have been declining for a long time. Highway deaths are caused by motor vehicle accidents. Pedestrian deaths are a subset of these crashes, so it stands to reason that the number of pedestrian crashes has also been declining. So far, this line of reasoning is factually correct.
This argument falls down when we look at the number of pedestrian crashes that resulted in pedestrian fatalities. Even though the overall number of pedestrian crashes is lower than it used to be, the number of fatalities arising from these crashes is not only higher, but consistently increasing. It's easy to blame increasingly widespread smartphone use over this time period (by drivers and pedestrians). As usual, however, the real reason for this increase is both more complicated to identify and difficult to resolve.
As we said, it's easy (and ultimately wrong) to blame smartphones for the sudden increase in pedestrian deaths. Whether pedestrians are glued to their phones or drivers are texting, no one is so oblivious to their surroundings as to be unaware of impending death. Prior to the advent of smartphones, the vast majority of car accidents were attributed to "human error," a catchall phrase that provides a scapegoat for statisticians and pundits alike.
In years past, reports by the GHSA were among the first to predict the increase in pedestrian deaths – but the cause came from unexpected quarters. A recent article from the Virginia Mercury states that, "DOTs and traffic safety campaigns often note that 94 percent of all crashes are due to human error…," an answer that is as vague as it is dangerous.
Debunking the 94% myth
Leah Shahum, director of the Vision Zero Network, told the Virginia Mercury that, "We need to debunk the 94 percent myth because it detracts focus from the actual risk factors that are most deadly, such as poorly designed roads and dangerously high speed limits. This myth keeps communities from implementing effective policy and design solutions, which is literally killing people."
Human error is simply a catchall phrase used as an official term that basically means "something went wrong, but we're not really certain what it was." The counterpart phrase used in crash reporting is "non-collision event," used on official crash reports to explain a broad range of circumstances resulting in a crash. The term covers an amazing breadth of circumstances and essentially means, Something went wrong with the vehicle, but we're not really sure what.
Why are pedestrian fatalities increasing?
The reality is that pedestrian crashes are more deadly for a two simple reasons. First, there are more Sport Utility Vehicles (SUVs) and trucks on the roads than ever before. These vehicles are heavier, taller, and much more likely to kill you in a crash. Second, social and economic forces have triggered a combination migration/displacement of people from cities to more suburban areas that are not designed to accommodate pedestrians safely. Let's take these one at a time.
The increasing prevalence of larger passenger vehicles has significantly affected the survivability of pedestrian crashes. Simply put, pedestrian strikes by a lower sedan tend to throw the victim onto the hood of the vehicle. With a truck or SUV, the collision is more akin to being struck by a wall. From the same article, "With many SUV and truck grills now reaching as high as five feet, it's nearly impossible for pedestrians not to be pushed under the vehicle. The data bear this out: 'One hundred percent of pedestrians in SUV collisions at speeds of 40 mph or greater died, versus 54 percent who were struck by cars.'"
Assistive driving technologies like pedestrian detection and automatic braking systems are helping to reduce the danger to pedestrians, but these technologies can't mitigate the larger infrastructure problems in less urban areas. While these issues are pervasive and beyond the power of the state to legislate as whole, there are ways that concerned citizens can help make their communities safer.
Simple things like guardrails, proper lighting, and clearly marked crosswalks can significantly reduce dangers to pedestrians. Virginia as whole has been taking action to address the growing problem. Most recently:
A new LED lighting policy has made it cheaper to keep streets well-lit — a critical enhancement since 75 percent of all pedestrian deaths occur at night. A crash-mapping project begun several years ago has also borne fruit: "We learned that the majority of deaths almost always occur when a pedestrian is crossing the road, but we don't do a good job as a state, as VDOT, and as a society in providing safe crossing infrastructure for pedestrians," [Mark] Cole [a highway safety engineer with VDOT] said.
As a pedestrian, there are precautions that you can take to keep you and your family safe. Wearing high-visibility clothing, crossing only a crosswalks, and paying attention to your surroundings are just a few of the most common recommendations. However, it's also important to remember one of the most basic safety principles when you're around any type of vehicle; if you can't see the driver, then the driver can't see you. For more tips on pedestrian safety, check out the Virginia Department of Motor Vehicles Pedestrian Safety program.
Unfortunately, even in the best of circumstances, flesh and blood is no competition for several tons of metal and glass. Surviving victims often suffer catastrophic injuries that require extensive medical treatment and incur significant costs. The Richmond-based car accident lawyers at Phelan Petty fight for you and your family when you need us most. Every car crash is different, and we treat each case and each client with integrity and respect. Our team works closely with expert witnesses like doctors, accident reconstruction specialists, and long-term care planners to get you the compensation you deserve. To discuss your case today, please call 804-980-7100 or fill out our contact form. We proudly serve Richmond and all of Virginia.