Camp Lejeune and Its Toxic Water Victims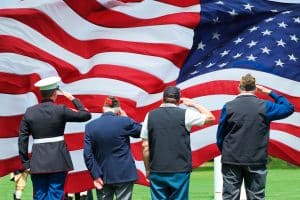 One of the greatest injustices done to Marine veterans in North Carolina was somewhat rectified recently when President Joe Biden signed the Honoring Our PACT Act. This Act also contains, the Camp Lejeune Justice Act, allowing victims sickened by toxic water to file for compensation decades after exposure.
Almost 40 years after being exposed to the water, veterans and their families are still feeling the effects of Camp Lejeune. If you or your loved one were exposed to the toxic water from Camp Lejeune, reach out to the Richmond Camp Lejeune lawyers at Phelan Petty.
What is the Camp Lejeune Justice Act?
The Camp Lejeune Justice Act allows Marine veterans and their families to hold the United States government accountable for their negligence. From 1953 to 1987, there were toxic chemicals in the water around the Camp Lejeune Marine Corps base in North Carolina. It wasn't until the mid-1980s that the carcinogens were discovered in the water systems. By that time, millions of veterans, their family members, and civilians living and working on base were exposed to water that contained 280 times the standard safety limit of carcinogens.
What health complications arose from the water contamination?
Some of the known carcinogens discovered in the Camp Lejeune water were chemicals known as trichloroethylene (TCE) and perchloroethylene (PCE). These chemicals are often used with dry cleaning solvents and can cause several health complications to develop. Being exposed to these types of substances in even small doses can lead to the development of some serious health conditions. Some of these conditions include a variety of cancers, Parkinson's disease, fertility issues, and blood diseases such as adult leukemia. A complete list of the diseases that Congress presumes were caused by the toxic water at Camp Lejeune can be found here.
Janey Ensminger's story
The United States government's negligence did not just affect the military veterans and members who lived on the Camp Lejeune base. One retired veteran affected by the water contamination is Master Sergeant J.M. Ensminger. Ensminger shares how he and his wife lost one of their four children as a result of this exposure. He and his wife lived on the base for 12 years when their daughter Janey was conceived, Sergeant Ensminger's wife was unknowingly consuming the contaminated water at that time. Sadly, their daughter Janey passed away from leukemia at age nine. Ensminger and his wife are certain that the exposure from the water contamination was directly responsible for their daughter's death. Neither of them has a history of cancer in their families.
Changes brought on by the Camp Lejeune Justice Act
Ever since the Camp Lejeune water contamination was revealed, millions of veterans and their family members, including the Ensmingers, have fought to hold various federal agencies responsible. Unfortunately, a North Carolina law governing time deadlines prevented that from happening. Before the Camp Lejeune Justice Act, veterans were informed that they could not pursue legal action because of a statute of limitations. Because of the time period in which the contamination took place and the development of health conditions later in life, injured parties struggled to prove that their exposure at Camp Lejeune was the cause of the illnesses and conditions they developed later in life. With the signing of the PACT Act into law, however, this s no longer the case. Toxic exposure is now presumed to be the cause of a number of different medical conditions.
The Camp Lejeune Justice Act has also eliminated the statute of limitations for injured veterans and their families. The Act allows anyone who lived for 30 days or more on the Camp Lejeune base to seek compensation for their health conditions. If service members, a family member, or a civilian staff member were present between 1953 and 1987 for at least 30 days on Camp Lejeune, they now have the right to file a claim against the United States government.
Do I need a lawyer to file a claim?
The United States government is the biggest bureaucracy in the world. Legally, you don't need a lawyer. Realistically, you should have one. There may be millions of people making claims for compensation from the fund, and any mistakes made in your application can delay access, or even lead to your claim being denied.
Phelan Petty is partnering with a North Carolina firm who can assist with any cases that must be filed in the Eastern District of that state, which is where the cases must be filed. However, we understand that veterans in Richmond or anywhere in Virginia may face challenges trying to file that claim out of state. We are here to help our local veterans. To get started, you will need certain documents:
Proof of military service and/or residency at Camp Lejeune (service can be yours, your spouse's, or your family member's)
Medical records and treatment relating to your conditions (including both VA records and private medical records)
Proof of all medical expenses and out of pocket expenses (such as mileage, hotel stays, etc.) related to your condition and treatment
The Camp Lejeune lawyers at Phelan Petty are just as ready to serve the men and women who have served our country. You have honored the United States unconditionally; now it is time for them to honor you. If you have been harmed by the Camp Lejeune water contamination, reach out to our Richmond attorneys today. Call our office at 804-980-7100, or use our contact form to schedule a free case evaluation.