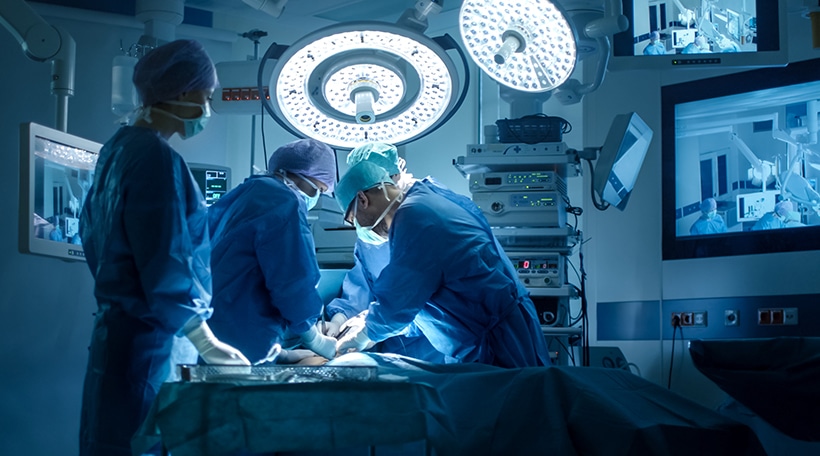 Richmond Defective Medical Devices Attorneys
Justice for victims of injuries from dangerous medical implants and devices in VA
Medical devices are made to save lives and benefit the health of patients. Companies and manufacturers have a duty to the public to ensure these devices and implants are safe and free of defects, and perform the way they are supposed to. When these devices fail or malfunction, they can put your very life at risk.
The Food and Drug Administration (FDA) highly regulates medical devices, which must meet a number of standard safety requirements. However, this does not stop some companies from bending the rules or breaking the law and allowing faulty devices onto the market. Often, the FDA will issue a recall when a medical product is found to be defective – but for many patients, this may be too late.
The Richmond attorneys at Phelan Petty have combined decades of experience related to defective medical devices. We have a deep understanding of the legal, technical, and medical issues surrounding defective products and we are prepared to take on the big biotech companies on your behalf.
Common types of defective medical devices
Generally, there are two types of medical devices that can cause a patient harm. Implanted devices, like hip implants or transvaginal mesh, can cause painful and disabling side effects. Devices used for surgery, like the daVinci robotic surgical system, can malfunction, resulting in further injuries and complications.
Other notable defective medical devices in the news or recalled over recent years include:
Bair Hugger warming blankets
Bair Hugger surgical warming blankets are designed to prevent hypothermia and keep patients at a regular core body temperature during pre-, intra-, and post-surgery. They filter and force warm air throughout the disposable blankets and use pressure points to prevent heat from reaching vulnerable areas of skin. However, many patients filed lawsuits claiming these blankets led to infections that resulted in infections and further surgeries.
Birth control devices
Several types of contraception and birth control devices, like the Mirena IUD and NuvaRing, have been linked to serious injury in users. An intrauterine device (IUD) is a small, T-shaped piece of plastic inserted into the uterus to provide birth control. However, if an IUD migrates or moves, it can cause organ perforation, bleeding, and life-threatening ectopic pregnancy.
Contraceptive rings, like the NuvaRing, are placed in the vagina and work by releasing hormones. Numerous lawsuits link the device to medical conditions like blood clots, strokes, and heart attacks. Other types of birth control, like Essure birth control coils, have also led to serious injuries, including autoimmune disorders, organ perforation, and wrongful death.
Hernia mesh
A hernia mesh is a thin sheet of flexible mesh surgeons use to reinforce a weakness or hole after hernia surgery. However, these devices intended to help the lives of patients have instead resulted in claims of returned hernias, severe pain, inflammation, and bowel obstruction. In April 2019, the FDA issued a nationwide ban of all pelvic mesh products due its complications, but hernia mesh remains on the market.
IVC filters
Inferior vena cava (IVC) filters are devices placed in the vena cava, which is a vein that carries blood into the heart. It helps patients with deep vein thrombosis to help prevent deadly blood clots. However, some of these wiry, small devices have been known to migrate within the body, causing perforations, respiratory problems, and wrongful death.
Metal-on-metal hip implants
Patients reported pain, tissue damage, and bone and metal poisoning from a variety of different metal-on-metal hip implants. Although many companies promised these implants would increase mobility, they are more prone to failure than other types. The FDA provides guidance on issues with these types of hip implants and devices.
Transvaginal mesh
Transvaginal mesh, which is used for pelvic organ prolapse repair surgery, is reported to have caused thousands of injuries to women across the United States. Yet, the FDA and mesh manufacturers have been slow to recall or discontinue their products. Transvaginal mesh can cause serious injury, like organ perforation, erosion into vaginal tissue, and women may end up needing further surgery to repair the damage.
We also handle cases involving:
Textured breast implants
Surgical staplers
Proton pump inhibitors
If you or a loved one suffered injury from any of these devices or a similar defective medical device, our Richmond attorneys can help. Do not hesitate to call us today.
Who is liable for injuries from a medical device?
Manufacturers of medical devices have a duty – and a responsibility – to make safe products, as well as test those products, before they go on the market. However, some companies may fast track their products through the FDA, which can remove some of the safety measures regarding testing. However, the benefit of a medical device must always outweigh the risk. Medical product companies must be held accountable for their manufacturing practices, design, and failure to follow FDA regulations.
When a manufacturer refuses to acknowledge their responsibility when their products cause patients harm, the Richmond product liability attorneys at Phelan Petty advocate for you.

Can I recover damages when I'm injured by a defective medical device?
If you or a loved one suffer injury from a defective medical device, you may be eligible for financial compensation. Further, by pursuing a claim against the manufacturer, you can also protect other patients from harm. A successful claim can help remove dangerous products from shelves and hospitals. In a medical device injury case, you may seek the following types of damages:
Compensatory, which are the monetary and physical losses suffered due to your injuries. This includes medical bills, loss of wages, pain and suffering, emotional harm, or wrongful death.
Punitive, which are financial damages designed to punish the manufacturer if they acted maliciously or with intentional disregard to the harm the device would cause. Punitive damages are meant to prevent defendants from repeating negligent behavior.
It is reasonable to believe that when the FDA approves a medical implant or device that it will be 100 percent safe. The approval process is a flawed one, however, where the company itself provides the safety data proving that the device's benefits outweigh the risks. Whether or not a device has been formally recalled, if you suffer harm, our Richmond attorneys investigate every detail of your injury to determine if you have a strong dangerous medical device claim.

How our Richmond medical device defect lawyers can help
Our attorneys consider a variety of issues when determining the strength of your case. Some of the factors that affect a defective medical device claim include:
Evidence of whether the device was improperly designed
Seriousness of your injury or disability
Whether any device components were unsafe
Whether the device was recalled (by the FDA or manufacturer)
Whether the device was used properly by the patient
Whether the potential defendant(s) provided proper warning of risks
Whether the product's advertising was false or misleading
Whether there were other known reports of injuries or safety concerns
Virginia allows two years from the date of injury (or discovery of injury) to file a claim. The sooner you contact our firm, the sooner we can begin working on your case.

Richmond dangerous and defective medical device injury attorneys
The product liability attorneys at Phelan Petty are dedicated to protecting victims who are injured by defective medical devices. We have the resources and the strategies to take on the big biotech and pharmaceutical companies on your behalf when their negligence causes you harm. We can help. To schedule a free consultation, please call 804-980-7100 or fill out the contact form. Our offices are located near I-64 and Route 250 in Richmond.
Related: