Federal Program Now Allows Teen Truckers to Cross State Lines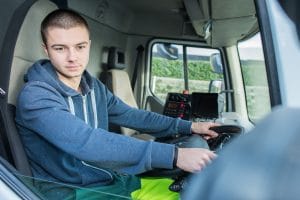 The federal government is moving forward with a plan that allows truckers under the age of 21 to drive big rigs back and forth across state lines. Previously, truck drivers must be age 21 and up to cross state lines, but this new legislation implements an apprenticeship program that allows drivers ages 18 to 20 to start hauling goods and cargo outside their home states. Unsurprisingly, this plan is controversial among industry and safety experts.
With the nation in the midst of a supply chain crisis, one of the biggest contributing factors is a shortage of truck drivers. Back in September 2020, the Federal Motor Carrier Safety Administration (FMCSA) proposed a pilot program allowing drivers as young as 18 years old to move cargo across state lines, lowering the age of long-haul truckers and helping ease the driver shortage.
Said FMCSA Deputy Administrator Wiley Deck about the pilot program:
This action will allow the Agency to carefully examine the safety, feasibility, and possible economic benefits of allowing 18 to 20-year-old drivers to operate in interstate commerce. Safety is always FMCSA's top priority, so we encourage drivers, motor carriers, and interested citizens to review this proposed new pilot program and share their thoughts and opinions.
This pilot program was never implemented. However, the passage of November's Infrastructure Investment and Jobs Act now requires the FMCSA to establish this program along with an apprenticeship program for these younger drivers.
How will the program work?
The apprenticeship portion of the program would last three years, in which a younger driver (age 18 to 20) would complete two probationary periods of interstate commerce under the supervision of an experienced driver in the passenger seat.
The first period includes at least 120 hours of on-duty time, with at least 80 hours spent driving a commercial vehicle. The trucking company must determine competency and skills in:
"Interstate, city traffic, rural 2-lane, and evening driving;
Safety awareness;
Speed and space management;
Lane control;
Mirror scanning;
Right and left turns; and
Logging and complying with rules relating to hours of service"
The second period includes at least 280 hours of on-duty time, with at least 160 hours of driving time. The trucking company must determine skills in:
"Backing and maneuvering in close quarters;
Pre-trip inspections;
Fueling procedures;
Weighing loads, weight distribution, and sliding tandems;
Coupling and uncoupling procedures; and
Trip planning, truck routes, map reading, navigation, and permits."
Once a driver successfully completes these probationary periods, they may start operating commercial trucks in interstate commerce on their own without accompaniment.
Are teen truck drivers more dangerous?
Although many industry experts believe the program is a good effort toward easing the nation's supply chain problem, others are not so sure. Owner-Operator Independent Drivers Association (OOIDA) President and CEO Todd Spencer wrote to the FMCSA in January:
We believe that licensing under-21 drivers for interstate commerce will lead to more crashes, injuries and fatalities involving large trucks, especially if (it) is implemented without establishing comprehensive safety oversight… We expect it will be difficult for many motor carriers to afford insurance coverage for younger drivers. Small-business motor carriers are especially unlikely to take the risk of insuring under-21 drivers when evaluating the costs and benefits to their operations.
When the program was first announced back in 2019, a group of safety advocates penned a letter in opposition, including Advocates for Highway and Auto Safety, American Public Health Association, Citizens for Reliable and Safe Highways (CRASH), Federal Law Enforcement Officers Association, Road Safe America, Truck Safety Coalition, Consumer Federation of America, The CRASH Foundation, Parents Against Tired Truckers, Society for the Advancement of Violence and Injury Research, Center for Auto Safety, National Consumers League, Consumers for Auto Reliability and Safety, Trauma Foundation, KidsAndCars.org, as well as many truck drivers, and truck crash victims and survivors.
In this letter, they pointed out the following:
Commercial vehicle drivers under age 19 are four times more likely to be involved in fatal truck accidents.
Commercial truck drivers between ages 19 and 20 are six times more likely to be involved in fatal truck crashes.
Younger truck drivers are more likely to be involved in these types of accidents due to lack of driving experience and tendency to take more risks on the road.
Portions of the brain crucial to decision-making, the pre-frontal cortex, are not fully developed until the mid-20s.
One of the major issues safety advocates point out about the FMCSA program is the number of probationary hours spent behind the wheel:
The first probationary period only consists of 80 hours of behind-the-wheel training which can be completed in a little over one work week while abiding by federal hour-of-service (HOS) requirements. Further, under current HOS requirements, the 160 hours of driving time in the second probationary period can be covered in just an additional two weeks.
Driving a truck is one of the most dangerous occupations according to the Bureau of Labor Statistics. However, these training requirements pale in comparison to other less dangerous jobs. For example, Texas requires a journeyman plumber to have 8,000 hours of experience, Oklahoma requires 4,000 verifiable hours of on the job experience for a residential electrical journeyman, and barbers licensed in Virginia must accumulate 1,100 hours in school.
The CDC states that motor vehicle crashes are the second leading cause of death for American teens. Further, per mile driven, teen drivers aged 16 to 19 are three times more likely than older drivers to be involved in a fatal accident.
However, in a statement, Nick Geale, vice president of workforce safety for the trucking associations, pointed out that under-21 truckers are already on the roads, but simply have not been allowed to cross state lines until now. "This program creates a rigorous safety training program, requiring an additional 400 hours of advanced safety training, in which participants are evaluated against specific performance benchmarks," he said.
The effects of putting younger truckers on the road remains to be seen, but our attorneys will be watching this program with interest and caution. In the meantime, if you or a loved one are injured in an accident with an at-fault truck driver, the attorneys at Phelan Petty can help. We have the resources, the experience, and the know-how to take on big trucking companies after their negligence causes you harm. To find out how we can help secure compensation for your injuries and losses, call 804-980-7100 or fill out our contact form. We serve clients in Richmond and throughout Virginia.