Carrier Safety: Are Trucking Companies Doing Enough?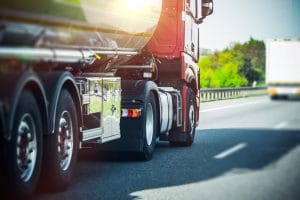 The issue of commercial truck safety is an important one. In fact, we have an entire national organization devoted to it – the Federal Motor Carrier Safety Administration, or the FMCSA. The FMCSA hands down safety regulations to commercial truck companies, which all carriers and drivers must follow or risk penalties for non-compliance. How do these companies track their safety metrics, and are they doing enough?
Trucking is a competitive business, and many carriers use key metrics to ensure their fleet is efficient  and on-time. Using technology to track transportation metrics can show a trucking company their strengths and weaknesses, identify areas of improvement, and minimize disruptions to the supply chain.
According to the Transportation Marketing & Sales Association (TMSA), for trucking companies, critical key performance indicators and benefits include:
Labor productivity
On-time pickup and delivery
Revenue yield
Fuel efficiency
Maintenance costs
Miles driven outside route
Border delays
Loading and unloading time
Damages
Although TMSA mentions that these are only a "fraction of the possibilities," note that "safety" does not appear in this list of key metrics. However, safety metrics are necessary, valuable, and measurable.
What are fleet safety metrics?
A recent article in FreightWaves discusses the importance of using both safety metrics and driver performance to get an accurate overall score of fleet safety, stating that "safety is perhaps the most talked about topic in trucking today, as many carriers have made it a focal point in gauging success. But with tight deadlines and big money on the line, it's easy to see why some are led astray by service-based metrics, placing driver performance in the back seat."
Trucking companies use fleet safety metrics to reduce commercial truck accidents. Common metrics include:
Vehicle crash rate
Cost of vehicle crashes
Negative road observations (feedback from public or internal)
Positive road observations (feedback from public or internal)
Once a fleet has this information, however, it is up to them how they will use it to improve the safety of their fleet.
Are trucking companies relying too much on metrics?
FreightWaves points out that many carriers lack "knowledge of safety management system scores or even the basics on using safety systems themselves." For example, a driver may have excellent on-time delivery metrics, but a deeper dive into that driver's history may uncover the several accidents and traffic violations it took to make those deliveries.
Reliance Partners Director of Safety Robert Kaferle explains that, as an industry, "[W]e certainly want to provide a service, but at what cost? We don't want an unsafe driver trying to make a delivery on time when encountering rush-hour traffic."
A recent trend in fleet safety is telematics, which could both help a trucking company's efficiency and improve driver safety on the fly.
What are telematics?
Telematics are a system of onboard communications services that gather real-time data on the truck driver and their driving conditions, helping companies improve safety (and, of course, their bottom line). Telematics can capture things like "speed, location, idling time, fast acceleration or braking, sharp turning, fuel consumption, vehicle issues, and more."
In the event of an accident, this information can give insight into a company's effectiveness into their own processes, like:
Safety training
Hiring processes
Safety policies
Vehicle upkeep and maintenance
Further, because telematic systems require cameras in the vehicle, the simple presence of these cameras can alter driver behavior in a positive way. Truckers who know they are being recorded are more likely to obey traffic rules, follow safety regulations, and generally behave more cautiously on the roads and highways.
Chris O'Neill of North America Environmental Risk Consulting reiterates this: "Telematics can determine if your drivers are using seatbelts, conducting safety checks, or securing loads. And some telematics programs are able to lock drivers' phones when they shift out of park or will not allow the truck to be shifted until the seat belt is fastened."
These systems can also determine when a truck collision is caused by maintenance or mechanical issues, rather than driver behavior. Telematics ensures regular maintenance checks as well as alerts fleet managers to potential vehicle issues. This helps keep unsafe commercial vehicles off the road until they can be repaired.
If you are in a Richmond truck accident
These types of safety systems are not only valuable for fleet owners, they are also valuable for your personal injury attorney in the event you are injured in a truck accident. If there is any question of who or what is at fault in the truck accident that caused your injuries, fleet safety systems like in-vehicle cameras and computers like telematics can help determine the cause.
Liable parties for a commercial truck crash can include the truck driver, the trucking company or fleet owner, the maintenance company responsible for repairs, or, if defective truck parts caused the wreck, the vehicle or truck manufacturer. Your attorney can work to secure all evidence from the trucking company, as well as evidence from the scene of the crash to show that you were not at fault for the accident that caused you harm.
The semi-truck accident attorneys at Phelan Petty protect you after you are injured in a crash with a commercial vehicle. We are not afraid to take on trucking companies that put safety by the wayside in order to make profits. Let us fight for financial compensation for your injuries and losses. To learn more about how we can help you, please call 804-980-7100, or fill out our contact form. We serve Richmond and all of Virginia.