Fatal Accidents with Impaired Truck Drivers Spiked in 2020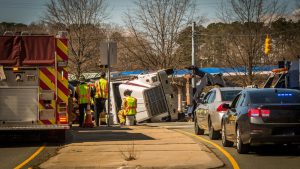 There is a crash risk associated with various drugs and substances, including alcohol, and their use continues to be prevalent among some drivers.
The National Transportation Safety Board's Safety Research Report released in December 2022 identified the following safety issues related to alcohol and drug use among drivers:
Accepted countermeasures for driving while impaired by alcohol should be implemented.
The rising problems associated with cannabis, drug, and multiple-drug-impaired driving must be addressed.
Drug-impaired driving laws and enforcement need to be improved.
Driving safety must be considered in the evaluation of prescription and over-the-counter medications.
Systems for documenting and tracking drug use and driving must be enhanced.
According to the NTSB, alcohol-impaired driving is a factor in nearly one-third of all traffic fatalities. Alcohol, drugs, and polysubstance use – taking multiple drugs at the same time – all  negatively impact driving performance and increase crash risk. Between 71% and 99% of the drivers studied by the NTSB tested positive for one or more potentially impairing drugs, and approximately half of the drivers tested positive for more than one category of drug. Alcohol and cannabis were the two most prevalent drugs – alcohol was most often detected alone, while cannabis was often present in combination with alcohol or other drugs.
Drug and alcohol-impaired driving is nothing new, and over the past 50 years, the NTSB has issued more than 150 related safety recommendations. Here are some key findings in the current report:
In the late 1980s, there was a major reduction in the number of impaired driving fatalities and the fatality rate, and since 2010, there has been little change. However, in 2020 (coinciding with the COVID-19 pandemic), there was a significant increase in impaired driving fatalities, with 11,654 people dying in crashes involving an alcohol-impaired driver.
Before the COVID-19 public health emergency, more than half of all seriously or fatally injured drivers tested positive for at least one potentially impairing drug category, and 17.6% tested positive for two or more. However, during the four months after the pandemic declaration was made, impaired driving increased significantly. Alcohol and cannabis were the drugs most frequently detected.
in 2020, more than 1 in 10 respondents admitted driving under the influence of alcohol or an illicit drug or a combination of drugs in the past year. The two most frequently reported drugs were alcohol (7.2%) and cannabis (4.5%). However, about one percent of respondents admitted having driven under the influence of other illicit drugs including cocaine, heroin, psychedelics, inhalants, and methamphetamine.
Key trends in the way drugs are prescribed and general drug use over the past 20 years may have increased the frequency of drug use among drivers and, in turn, the increase of drug-related crashes. This includes a significant increase in prescription drug use – depressants, muscle relaxers, and opioid painkillers – as well as chemicals designed to mimic the effects of drugs, like bath salts.
Over the past decade, there has been a general effort to decriminalize or legalize the use of cannabis. For example, since 2012, 21 states, the District of Columbia, and two U.S. territories have made recreational cannabis use legal, and other states have legalized cannabis for medical use or have decriminalized it by lowering the penalties connected with its possession. Research about the effects of such measures on the popularity of cannabis use among drivers and traffic safety has shown mixed results.
Approximately 22.3% of daytime drivers and 22.5% of nighttime drivers tested positive for potentially impairing drugs. The results also showed a significant increase in drug use by nighttime drivers compared to 2007, the first year in which the NRS tested for drugs other than alcohol. The prevalence of cannabis both alone and in combination with other drugs increased significantly between 2007 and 2014.
Understanding the problem of drug-impaired driving is challenging and complex. There are hundreds of drugs with the potential to cause impairment and thousands of potential drug combinations. For most drugs, with the exception of alcohol, there is no clear correlation between measurable drug concentrations and the level of impairment experienced by a driver. In other words, different drugs affect people differently depending on the drug, the user, and the circumstances under which the drug is used.
Impaired driving among truckers
Drunk driving incidents are much less common in truck drivers than among drivers of passenger vehicles; however, drug use is a more common source of impairment for truckers. Although many of these medications aren't inherently dangerous, they can make drivers drowsy or inattentive, putting them at risk. Here are some ways fleet managers can reduce impaired driving among truckers:
Stricter penalties. Establishing harsher penalties for incidents surrounding impaired driving. Actions that break the law should result in termination, and smaller offenses should still carry consequences like temporary suspensions.
Ignition interlocks. Installing ignition interlock systems that require drivers to pass a BAC test to start their engines.
Monitor risk when hiring. Fleet operators can reduce impaired driving by looking for risk signals in the hiring process and performing background checks to detect past impaired driving incidents.
Employee education. Drivers are likely aware that they shouldn't drive drunk but might think having a few drinks before driving doesn't matter. Fleet managers should educate drivers on how dangerous this can be.
Improve route planning. Better route planning and keeping drivers informed of any changes can help them feel less rushed. Flexible schedules can also reduce stress by making it easier for truckers to maintain a healthy work-life balance.
Trucking can be an extremely dangerous profession, and impaired driving makes it more hazardous. Fleet managers can proactively avoid impaired driving incidents among truck drivers by preventing the situations that can lead to them.
The Richmond-based truck accident attorneys at Phelan Petty know that every truck accident claim is unique, particularly those involving impaired driving. Our lawyers thoughtfully assess the individual strengths and weaknesses of every case to allow us to craft aggressive, thoughtful legal strategies to obtain the compensation our clients deserve. Please fill out our contact form to schedule your free initial case evaluation today. We're conveniently located near I-64 and Route 250 in Richmond.
Related: