Report: Large Trucks Overrepresented in Fatal Work Zone Crashes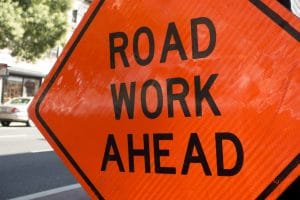 A recent report from the Institute for Safer Trucking (IST) analyzed a wide variety of statistics from across the country regarding fatal large truck crashes. Using data collected from the National Highway Traffic Safety Administration's (NHTSA) Fatality Analysis Reporting System (FARS), IST's goal is to identify and reduce sources of big truck accidents and deaths.
While the Institute uncovered a lot of numbers – 19 pages worth, to be exact – one statistic stood out to us in particular.
Too many trucks are involved in work zone accidents
According to the IST, a full one-third of fatal work zone crashes in 2019 involved a large truck. They note, "The Department of Transportation should issue guidelines for states to leverage technology to improve work zone visibility and reporting to truck drivers to help address the overrepresentation of large trucks in fatal work zone crashes."
Deputy Administrator of the Federal Motor Carrier Safety Administration (FMCSA) Meera Joshi adds:
Fatal crashes occurring in work zones are both tragic and absolutely preventable. I am especially concerned that large trucks continue to have a disproportional involvement in fatal crashes occurring in work zones – 33 percent – when large trucks comprise roughly five percent of vehicular traffic. Don't allow yourself to become distracted, slow down, obey the signs and the instructions of flaggers and be courteous and safe by giving every vehicle extra space. Highway workers equally depend on you for their safety.
In 2019, the following 10 states had the highest involvement of large trucks in fatal work zone crashes. Virginia doesn't appear on this list, and we hope to continue working hard to avoid it.
Rhode Island
West Virginia
Mississippi
New York
Alabama
New Mexico
Connecticut
Kansas
Kentucky
Louisiana
However, that doesn't mean that truck accidents are not a common occurrence. Virginia sees over seven work zone accidents every day. Commercial trucks can be treacherous to maneuver around in the best of circumstances. In work and construction zones, this can be even more risky.
Why are trucks so dangerous in work zones?
Because of a commercial truck's large size and weight, as well as its high center of gravity, it can be a formidable presence on any road. However, when you add in the risks of a work zone – sudden reduced speeds and narrowed roadways – the risk for an accident greatly increases. Reasons trucks and tractor-trailers are at higher crash risk in construction zones include:
Blind spots. Large trucks have huge blinds spots, also called "no-zones." These areas are around the side, front, and rear of the truck and truckers must take extra care when maneuvering in smaller spaces due to these blind spots. When traffic changes and merges to move through a work zone, smaller vehicles can inadvertently end up in a "no-zone" and experience a serious accident.
Changing conditions. Work zones are active areas. Traffic is typically merging down to a single lane, with a variety of construction workers, flaggers, work vehicles, and law enforcement near the roadway, all trying to safely perform their jobs. Truck drivers must be aware of their blind spots, as well as keep alert for unexpected vehicles or workers.
Reduced speed limit. Work and construction zones typically require vehicles to merge down to a single lane, as well as considerably slow down. With highway speeds reaching up to 75 miles per hour in some areas, if a truck driver is distracted, fatigued, or under the influence, they can cause a tragic or deadly accident in a highway work zone.
What are the four danger areas of work zones?
Highway work and construction zones typically have four different areas, each with its own particular vulnerability and risk potential:
Warning area, where signs and/or flaggers alert drivers to the work zone area. This is where the start, stop, and flow of construction area traffic begins.
Transition area, which alters the flow of traffic and features things like temporary dividers, barriers, channeling devices, or directional lights.
Protected area for workers, construction vehicles, machines, equipment, and storage.
End area, where the work zone terminates, traffic resumes as normal, and vehicle speeds increase.
Commercial truck drivers must be at high alert when entering and exiting a work zone, not only for the safety of the motorists around them, but also for the personal safety of the highway and construction workers on the job.
Who is liable for my work zone accident and injuries?
If you were injured in an accident with a truck in a work zone, assigning liability for your losses may be complicated – but the attorneys at Phelan Petty can help you sort everything out. Potential liable parties may include:
Commercial truck drivers, if their negligence or inattention led to your accident and injuries.
Trucking companies, if they hired unqualified drivers or encouraged drivers to ignore safety standards and regulations.
Construction companies, if they failed to set up the work zone in a safe and proper manner
Other motorists, if their actions led to your accident; for example, failure to yield, speeding, or ignoring traffic signs and signals.
Truck manufacturers, if a faulty or defective truck part caused your accident.
Government entities, if they failed to keep roads and highways safe or hired unqualified construction crews.
Experienced attorneys can help determine exactly what caused your accident, and who should be held accountable.
The truck accident lawyers at Phelan Petty want to help if you suffered injury and loss in a work zone crash. Our strategic and aggressive attorneys represent victims of truck, car, and motorcycle accidents in Richmond and throughout Virginia. To schedule a consultation with a member of our legal team, call our offices at 804-980-7100 or fill out the contact form.