For Teen Drivers, Distraction Comes in Many Forms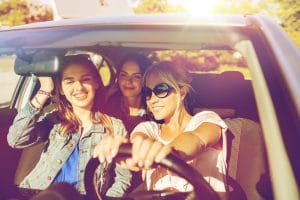 Distracted driving is pervasive and dangerous. A moment's inattention at highway speeds can have a lifetime of consequences for accident victims, and no one is immune. Legislation to combat this widespread issue went into effect statewide in July 2020, but enforcement efforts began in January of this year. The new law imposes stiff penalties on those using cell phones or other electronic devices while driving, and was aimed at reducing the high number distracted driving crashes across the state.
Studies have shown that driving distracted can be as dangerous driving under the influence; Drive Smart Virginia explains that texting "…while driving increases your crash risk by 2300%, because it involves all THREE kinds of distraction – manual, visual and cognitive. It is by far the most egregious form of distracted driving." Distraction is not limited to certain age groups or types of drivers, but some drivers are significantly more likely to engage in risky behavior behind the wheel.
Distracted driving comes in many forms
Distracted driving doesn't always refer to texting. In fact, what most of us learned as "highway hypnosis" in Drivers' Ed is actually a form of distracted driving. According to the Centers for Disease Control and Prevention (CDC), there are three main types of distracted driving ­– visual, manual, and cognitive. In short, the first means taking your eyes off the road, the second means taking your hands off the wheel, and the third means taking your mind off the task at hand.
Today's drivers are subject to a constant barrage of information while hurtling down the highway at breakneck speeds. Even a quick glance at the clock at 60mph can mean result in 200 feet of travel, a without a set of eyes on the road. These split-second distractions, as well as more dangerous types like daydreaming or texting, can quite literally be the difference between life and death for even the most experienced drivers.
For less experienced drivers, the risks are even higher. Going by the numbers, teens are much more likely to be involved in crashes. The National Safety Council's Injury Facts reports, "Sixteen- to 19-year-olds represent 3.9% of licensed drivers, but account for 8.6% of drivers in all crashes and 6.0% of drivers in fatal crashes… The overall crash rate per 100,000 licensed drivers steadily decreases as driver age increases."
Why are teens more likely to be distracted behind the wheel?
While teenagers are inherently more likely to engage in risky behavior, that's not the whole story. Inexperience behind the wheel is a risk factor in and of itself. Virginia (like most other states) has a graduated drivers program. According to the Virginia Department of Motor Vehicles (DMV), teens as young as 15 years and 6 months may apply for a learner's permit (with conditions), while those under 18 are required to complete a state-approved driver education program.
However, driver education programs are no substitute for experience behind the wheel. A study published in 2019 found that the majority of traffic accidents are caused by novice drivers "…because of their lack of experience and relatively weak driving skills." Additionally, inexperienced drivers tend to judge situations less accurately and respond inappropriately more often than their more experienced peers. In particular, "…analysis showed that novice drivers engage in three main risky behaviors: easily changing their attitudes, overestimating their driving skills, and underestimating illegal driving."
This data is borne out by data from the Children's Hospital of Philadelphia Research Institute's (CHOPRI) Teen Driver Source. An excellent resource for parents of teen drivers, the site also offers some chilling statistics regarding the dangers of "peer passengers", namely that, "Although it may seem harmless for the newly licensed to drive their friends home from practice or to the movies, teen passenger risks are real. The crash risk doubles when teens drive one peer passenger and triples with two or more teen passengers" [emphasis added].
How to keep your teen's eyes on the road
The best tools are often the simplest. When it comes to distracted driving, educating your teen about the risks and very real consequences is a good place to start. However, teenagers are notorious for breaking the rules and exploring boundaries. The best way to keep your teen safe from distractions is to set and enforce your own rules regarding vehicle and smartphone use as well as passengers and allowable driving conditions.
Any parent of a teenager knows from experience that keeping tabs on their teen and enforcing all the rules all of the time is a fool's errand, but there is more technology available today than ever before. Smartphones with parental control locks can prevent access while driving and allow location tracking. Some newer vehicles offer driver profile settings that allow speed restrictions and send alerts about dangerous maneuvers.
When it comes to protecting your teen, it's ok to think outside the box; speed governors existed long before digital control platforms. Curfews and required check-ins are the analog version of modern smartphone wizardry. At the end of the day, common sense, communication, and leading by example are some of the most important things you can do to protect your family. The CHOPRI Teen Driver Source offers excellent examples, videos and other resources to help keep you and your loved ones safe on the road.
Unfortunately, no matter how well prepared young or novice drivers are, accidents happen. CHOPRI's data reports that, "Motor vehicle crashes are a leading cause of injury and death for young adults (ages 15-20) in the United States." If your teen was distracted by an unruly passenger or a victim of a distracted driving crash, the compassionate Richmond distracted driving attorneys at Phelan Petty can help you and your family understand your rights and help you get the compensation you need. We fight for your family when you need us most. To discuss your case today, please call 804-980-7100 or fill out our contact form. We proudly serve Richmond and all of Virginia.