How Injured Passengers Can Seek Damages for Virginia Car Accidents
A passenger injured in an automobile accident will rarely be considered at fault for a collision, even if they caused a distraction, because they were not driving the vehicle when the crash occurred. However, one or both drivers may be held liable, including the operator of a vehicle carrying the passenger.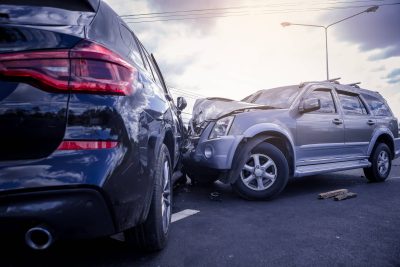 Drivers owe their passengers a duty to use reasonable care in the operation of the vehicle, and should they breach this duty, they could be held legally responsible for the damages suffered. However, there is a chance that a passenger may be found at fault or lose their right to recover compensation if they knowingly got into a car with a driver under the influence.
Quick Links
Who is liable for passenger-related injuries in a car accident?
According to Virginia law, an injured passenger has the right to file a lawsuit against the driver of the vehicle they were riding in if that driver is negligent and caused, or partially caused, an accident. Here are some common scenarios:
If a driver's negligence leads to a single-vehicle crash, a passenger may be able to make a claim with the driver's insurance carrier for accident-related present and future medical expenses, prescription costs, present and future lost income, diminished earning capacity, disability, disfigurement, loss of enjoyment of life, and pain and suffering.
If two or more vehicles were involved in a collision, one or both drivers could be found liable. If the driver of the vehicle carrying the passenger was partially or entirely at fault for the accident, the passenger could file a claim with the driver's insurer. They might also be able to file a claim with the driver of the other car, but only if it is determined that that driver is completely or partially at fault.
If the at-fault driver was not the registered owner of the vehicle, the owner of the car could be held independently liable for a passenger's injuries, if the owner knowingly lent their vehicle to someone they knew was unsafe or under the influence of drugs, alcohol, or both.
If a passenger has personal injury protection or medical payments coverage on their automobile insurance policy, they might be eligible to pursue a first party claim through Virginia's add-on no-fault law. In this case, their insurance company would pay for their medical bills, although coverage for pain and suffering will not be included. If the passenger receives monetary damages from an at-fault driver's insurance company, the insurance company will typically deduct the amount they previously received from their insurance provider from the total recovery.
What should I do after being hurt as a passenger in a car accident?
A passenger injured in an automobile accident should do many of the same things that the drivers are responsible for, including collecting the names, addresses, license numbers, and insurance information from the other parties involved. Injured passengers should also file injury claims in a timely manner, since they have only two years from the date of the accident to do so under the state's statues of limitations.
To receive compensation for accident-related injuries, a passenger will be required to prove that one or both drivers negligently caused the accident. However, insurance claims typically take time and settlement will not occur until all medical treatment has been completed. What should passengers do in the meantime? Medical pay coverage generally covers accident-related medical expenses while the claim is being processed.
Can I use Medical Payments Coverage after an accident?
Medical payments coverage, commonly known as Med Pay, is an additional coverage that can be added to your automobile insurance policy to pay accident-related medical bills – up to a specific limit chosen by you when you buy the coverage. Med Pay will cover the driver as well as their passengers in the event of an accident no matter who was at fault, making claim processing (and getting bills paid) much faster.
Under Virginia law, Med Pay will pay "all reasonable and necessary expenses for medical, chiropractic, hospital, dental, surgical, prosthetic, and rehabilitation services, services provided by an emergency medical services vehicle, and funeral expenses resulting from the accident and incurred within three years after the date of the accident, up to $2,000 per person." Med Pay covers the person who buys it, their spouse, and immediate family, and individuals can choose to purchase more than $2,000 worth of coverage if they want.
Med Pay coverage is usually not overly expensive and will pay accident-related bills immediately – with no co-pays, deductibles, or limitations regarding which providers can administer treatment.  However, in the case of a serious accident with multiple injuries, it might not take long for Med Pay coverage to be exhausted, whether all accident-related bills are all paid or not.
Using an umbrella policy in a car accident claim
If a driver is determined to be at fault for an accident that causes a passenger to suffer severe injury or death, the injured party's injuries could easily surpass the limits of their automobile insurance. However, an umbrella policy can provide another level of protection that would pay damages that surpass the limits of the underlying policy.
Since a personal umbrella policy takes effect after the underlying policy coverage is used up, specific limits usually must be met to purchase the coverage. For example, most insurers will require an insured to have at least $250,000 of liability insurance on your auto policy before they will issue an umbrella liability policy for $1 million of additional coverage. While umbrella coverage is optional, it can provide critical increased protection in the event of a catastrophic accident.
Did you suffer injuries while a passenger in another person's vehicle? At Phelan Petty, we dedicate ourselves to every case we take, and understand the frustration of mounting medical bills, lost wages, and recovering from an injury. To learn more about why we are the Richmond personal injury attorneys you want fighting for you, call Phelan Petty or fill out our contact form to schedule your free initial consultation today.