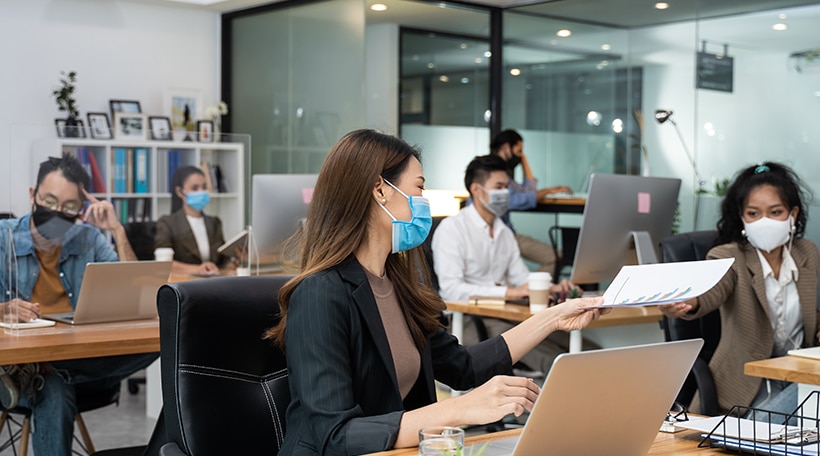 Richmond Business & Loss Attorneys
Helping owners with coronavirus and COVID-19 insurance claims in Virginia
Business interruption insurance is designed to help owners replace lost income and pay for unexpected expenses when their business is halted or interrupted after a catastrophe, fire, or other event. This type of insurance is typically part of any business owner's insurance policy. Business owners expect their livelihood to be protected when they sign a business interruption insurance contract.
Recently, our economy has been severely disrupted and businesses are closing during the current COVID-19 pandemic. Many small business owners are wondering if they have the right insurance coverage, what options they may have, and whether their insurance company will even cover their claims.
Will your safety net be there? A significant number of business insurance policies have exceptions for communicable disease outbreaks, and the insurance company may fight your claim. This is a direct result of the 2003 SARS outbreak. After the Mandarin Oriental Hotel received $16 million in an insurance payout due to business losses from the illness, insurance companies quickly added exclusions to their policies in response to this ruling.
The attorneys here at Phelan Petty in Richmond hope to provide some information and guidance during this confusing time. Please don't hesitate to fill out our contact form if you have any questions.
The Small Business Administration is offering loan assistance to homeowners, renters, small business owners and private nonprofits. You can apply for those loans here.
What does business interruption insurance cover?
Your business interruption insurance helps cover the loss of income and other expenses after what's called a "covered peril" affects your business. These types of perils typically include theft, fire, wind, lightning and other types of disasters. Take the time to read your policy thoroughly so you understand the scope of your policy.
For example, if your business is damaged in a fire, your coverage can reimburse you for:
Lost income. This includes loss income from destroyed merchandise, as well as lost revenues.
Extra expenses. These include expenses for things like temporary relocation.
Contingent business interruption insurance is another type of insurance that can protect you in the event your supply chain is cut off or interrupted.
Note that business interruption insurance does not pay for property repairs; this is the job of your property coverage.
Does my business interruption insurance apply during a pandemic?
Our country has never experienced a pandemic like the current COVID-19 coronavirus outbreak. Businesses everywhere are suffering financial losses as a result of mandatory closures and quarantines, resulting in delivery delays, merchandise shortages, and a decline in demand for certain goods and services.
Before your policy coverage is triggered, it must meet two conditions. The loss must result from a covered cause (not listed in any exclusions). And, there must be a direct physical loss or damage to your business or property. The "physical loss" wording is where coronavirus business interruption claims can get tricky. COVID-19 may slow down business, decrease revenue, or shutter it indefinitely, but none of this actually incurs physical damage in the eyes of most insurance companies. However, there are at least two types of physical losses some business owners are currently experiencing:
When business interruption is due to the contamination of property – such as the insured premises becomes contaminated and uninhabitable due to coronavirus, and must be closed to be sanitized and disinfected
When business interruption is due to "civil authority," meaning a federal, state, or local government imposed a restriction or quarantine that prohibited access to the business premises or facilities
If your business is experiencing the effects of the coronavirus, it's crucial to review your insurance policies now, as well as thoroughly document any coronavirus-related impacts.
The federal government has already urged major insurance companies to cover business interruption losses from COVID-19. Although this is not a formal directive, members of Congress believe this would "help sustain America's businesses through these turbulent times, keep their doors open, and retain employees on the payroll." The state of New Jersey has already taken steps to protect small businesses by drafting legislation to include coverage for COVID-19 on insurance policies as well.
The attorneys at Phelan Petty are always available to answer questions and provide assistance about any of your coronavirus-related concerns regarding your business. We understand that this situation is changing hourly, and so is federal and state legislation. Our team is staying on top of the legal issues for you, and our job first and foremost is to protect your rights.
Experienced help with business interruption insurance claims in Richmond
With the current COVID-19 pandemic affecting the global economy, business owners across Virginia are experiencing losses like never before. The attorneys at Phelan Petty can help you review your business insurance policy to ensure your coverage, and fight for you if your claim is denied.
To schedule a free consultation, please call 804-980-7100 or fill out the contact form. We're located near I-64 and Route 250 in Richmond.