Battery Explosions and Fires Ebook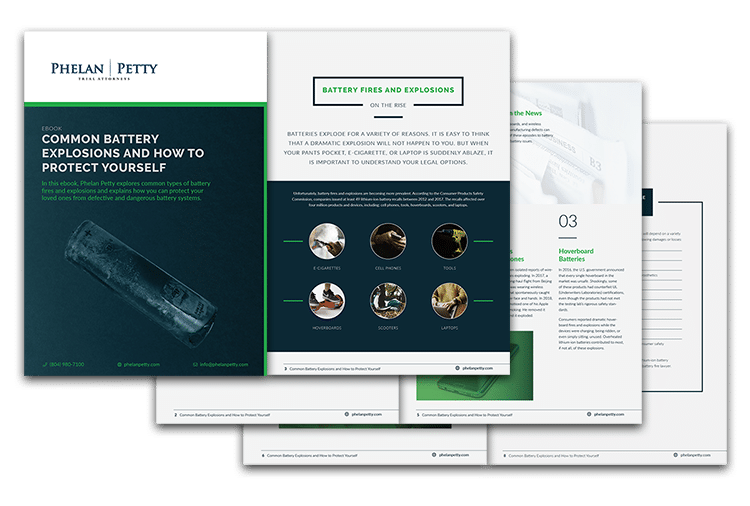 Get Free Information About Lithium-Ion Battery Safety
Whether you have been hurt by a vape pen or lithium-ion battery, or want to protect yourself from harm, fill out the form below to download your free copy of "3 Common Battery Explosions and How to Protect Yourself."
Lithium-ion batteries power everything from headphones to cell phones and e-cigarettes. However, they can short circuit, overheat, and explode, even when used correctly by consumers—and e-cigarette batteries are particularly dangerous. In this guide, the Phelan Petty team explains essential safety precautions that can protect you and your loved ones against battery fires and explosions.
When you download this free ebook, you will learn:
Why lithium-ion batteries explode
Which products are most at risk for explosions
What do to if you are the victim of a dangerous or defective product, such as an e-cigarette or vape pen
How an experienced Phelan Petty attorney can help you recover the damages you deserve after a traumatic accident
Our lawyers have extensive experience handling lithium-ion battery injury claims, and we want to empower and educate consumers about these potentially hazardous products.
Phelan Petty: Virginia's Battery Explosion Lawyers
Focused on Complex Cases
After a defective or dangerous battery explodes, it can be difficult to identify exactly what went wrong. At Phelan Petty, we have successfully traced liability back to manufacturers, retailers, and others that distributed defective and dangerous products. Our lawyers focus on the most complex cases, where our skills and resources can make the most impact.
Proven Research-Driven Approach
We take pride in our systematic, research-driving approach to personal injury cases. We think like scientists, ask questions like detectives, and fight like boxers for our clients. We also work with some of the country's most respected technical experts.
Track Record of Excellence
Our results speak for themselves; we keep our head down and work hard, so that battery explosion victims get the justice and compensation they deserve. We have been recognized time and again for our excellent representation, and we are proud of the work we do.
Do You Have Questions or Concerns? Request a Free Consultation
At Phelan Petty, we carefully examine each case that crosses our desks. When you meet with our team, we will make sure you understand your legal options. If you have questions or want to schedule your free consultation, do not hesitate. Call us today at 804.980.7100 or fill out our free, online contact form.
The content provided here is for informational purposes only and should not be construed as legal advice on any subject. 
And if you have been injured in a car, truck, or motorcycle crash in Virginia, please contact us right away to get a free, no-risk assessment of your case from an experienced auto accident attorney.