Amazon's Change of Heart Regarding Defective Products Is Profit-Driven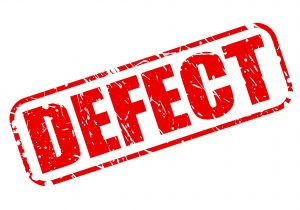 Retail giant Amazon recently announced an update to its A-to-Z Guarantee, which covers the condition and timeliness of customer deliveries. The Guarantee now covers claims up to $1,000 when a defective product sold under the Amazon umbrella causes personal injury or property damage. Amazon claims this move is to facilitate more trust between Amazon and its customers.
However, some experts wonder why the company is making this about-face after spending years fighting liability from defective product claims. The answer, of course, is profits.
What is Amazon's A-to-Z Guarantee?
Amazon's original A-to-Z guarantee return process was created to provide customers with an easy return process for products sold by third-party sellers. However, in the past, customers were mostly left on their own when injured by unsafe products. Now, Amazon is expanding this guarantee to cover property damage and personal injury from defective products sold through third-party sellers. The company states:
In the unlikely event a defective product sold through Amazon.com causes property damage or personal injury, Amazon will directly pay customers for claims under $1,000—which account for more than 80% of cases—at no cost to sellers, and may step in to pay claims for higher amounts if the seller is unresponsive or rejects a claim we believe to be valid.
You can file a claim for a defective third-party product on Amazon's website.
Amazon's history with defective products
With more than 500 million products up for grabs every day, Amazon's offerings from third-party sellers often include unregulated or unsafe products. Adweek reports news of items like laptop batteries, dog collars, and bike helmets causing catastrophic injuries and even fatalities. In the case of the dog collar, Amazon settled a case in 2020 with a woman who lost her vision in one eye due to a defective retractable dog collar. By settling, Amazon was able to avoid going to court and potentially found liable for selling defective products.
Right around the same time, a court of appeals found Amazon liable for damages after plaintiff Angela Bolger suffered severe burns and injuries after her laptop computer battery exploded. Bolger purchased the laptop battery off Amazon from a third-party seller. Amazon argued they were not liable for her injuries, as they did not distribute, manufacture, or sell the product, and were merely an online marketplace.
Although the trial court ruled in Amazon's favor, an appeals court overturned the ruling in favor of Bolger, stating, "Under established principles of strict liability, Amazon should be held liable if a product sold through its website turns out to be defective. Strict liability here 'affords maximum protection to the injured plaintiff and works no injustice to the defendants, for they can adjust the costs of such protection between them in the course of their continuing business relationship.'"
Finally, in July of this year, the Consumer Product Safety Commission (CPSC) filed its own complaint against Amazon, forcing them to take responsibility for defective products sold through their marketplace. This administrative complaint named hundreds of thousands of known defective products, and seeks to force Amazon to both stop selling the products and work with the CPSC on a recall.
These products include defective carbon monoxide detectors, hair dryers, and children's sleepwear garments.
How will Amazon handle defective product claims?
To be eligible for compensation through Amazon, a product must be defective and must have caused injury or damage. When Amazon pays out a claim to a consumer, the third-party seller will not be responsible for reimbursing Amazon. Amazon does note, however, they will fully investigate all claims before issuing any payments in order to prevent customers from attempting to game the system. Third-party sellers can also defend their products as part of this investigation.
If you are injured by a defective product
Amazon's new policy takes effect September 1, and it directly compensates customers for valid claims of damage or injury up to $1,000 (or more in certain cases). It is of note that in the case of someone like Angela Bolger, who suffered severe injuries from a defective laptop battery, $1,000 is not going to cover medical expenses and property damage. Customers with serious injuries or property damage will likely still need to seek out experienced attorneys.
Injuries from dangerous and defective products are covered under product liability law. When you purchase a product, you trust that the company from which you bought it is providing you a reasonably safe product free of hazards and defects. When they fail to do so, and you or a loved one suffer injury, these companies and manufacturers should be held accountable – especially when your injuries are severe.
If a defective or malfunctioning product causes you injury, whether you purchased it on Amazon or elsewhere, take the following steps to protect your legal rights:
Save the product and its packaging. Do not attempt to repair it or take it apart to see what caused it to malfunction. Do unplug it and/or move it to a safe place.
Locate or print out your receipt.
Take photos of the product or device and any damage it caused, including your injuries.
Save your medical bills and any expenses related to property damages.
Speak to a qualified attorney for legal guidance before reaching out to the company or manufacturer.
An attorney may have knowledge of other incidents with the product, or previous unsafe practices on the part of that particular company. While Amazon is indeed taking a small step forward toward consumer protection with their updated guarantee, they continue to dodge liability for their third-party dangerous products.
The defective and dangerous product attorneys at Phelan Petty protect consumers from negligent companies and manufacturers. If you or a loved one were injured by a defective product, we can help. Contact our offices today at 804-980-7100, or fill out our contact form. We serve Richmond and all of Virginia.