Second Person Killed by ARC Air Bag Inflators, Prompting Recalls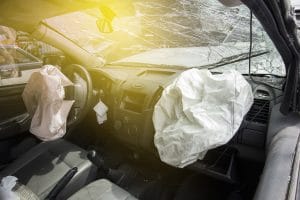 An exploding air bag inflator has killed two people and potentially injured others. According to GM Authority, the National Highway Traffic Safety Administration (NHTSA) and General Motors (GM) have issued recalls for two models already, the Chevy Traverse and the Buick Enclave, citing the risk of explosion. We expect more recalls to follow.
The airbag manufacturer, ARC Automotive, has been under investigation by NHTSA for the last six years, AP News reports, prompting advocacy groups to wonder why the recalls have taken so long. Rosemary Shahan, president of Consumers for Auto Reliability and Safety, told AP News, "NHTSA should have been all over this a long time ago. There's just no denying that it's a (safety) defect."
Which vehicles have been recalled because of ARC airbag inflators?
So far, only 550 vehicles have been recalled this time, per GM Authority. They include:
2013-2017 Chevy Traverse
2008-2017 Buick Enclave
ABC News reports that "GM recalled 1,145 Chevrolet Malibu sedans from the 2010 and 2011 model years after finding out that a driver had been injured by an exploding ARC inflator."
We expect to see more recalls. AP News reports that ARC inflators are used in vehicles manufactured by GM, Fiat Chrysler, Kia, and Hyundai, and that the company has manufactured around 8 million inflators in use in the country.
What is wrong with the ARC airbag inflators?
Airbag inflators use chemicals to trigger a "small explosion," which in turn inflates the airbag. Most companies use sodium azide, which is dangerous enough, but ARC inflators also use ammonium nitrate as a secondary measure. The problem with ammonium nitrate is that it "can deteriorate when exposed repeatedly to high temperatures and humidity, and it can burn too fast, making explosions larger." This larger explosion can blow apart the canisters within the airbag, sending shrapnel into the car, and into drivers and passengers.
If this sounds familiar, it is because you have heard this story before. Takata also used ammonium nitrate in its airbags, and it sparked the largest auto recall in American history. All in all, Takata's defective airbags killed 27 Americans and injured 400 more. The only difference between Takata's and ARC's airbags is that ARC uses ammonium nitrate as a secondary course, not the primary source for inflation.
The NHTSA failed to keep people safe
ARC Automotive's airbag inflators have been under investigation by the NHTSA since 2015. That year, two people were injured by flying shrapnel. In 2016, a Canadian woman was killed by shrapnel. On October 13, 2021, a second person died because of an exploding ARC airbag.
Yet nothing appears to have happened. Per AP News:
Public records show only a little progress on the probe. In April, the agency posted a memo in saying it was reviewing volumes of information it received from ARC…. In the most recent recall, GM wrote that it found out about the death on Sept. 2 and it decided to do the recall on Oct. 2. Documents say a GM investigation has not identified any other inflator ruptures involving vehicles involved in the recall.
Had the NHTSA instituted a recall on all ARC airbag inflators in 2015, both deaths could have potentially been avoided.
How do I know if my vehicle has an ARC inflator?
There are many causes of auto accidents and truck accidents. Exploding airbags should not be one of them. Automobile owners can easily check to see if the airbags or other safety features in their vehicles have been recalled by going to NHTSA's recall site: https://www.nhtsa.gov/recalls. With respect to the GM autos that are the subject if this recall, GM will be sending  owner notification letters in November.  In the meantime, GM owner can go to my.gm.com/recalls and enter your VIN to see if your vehicle has any active recalls (airbag related or not). You can also contact GM, Chevy, and Buick:
GM recall number: N212349040
Chevy Customer Service: 1-800-222-1020
Buick Customer Service: 1-877-248-2080
Are all airbags dangerous?
Anything that explodes is dangerous, but the number of lives saved by airbags prove that they are effective safety tools for adults. Children and teen drivers, in fact, may be at greater risk of injury by airbags.
The issue is that more and more often, manufacturers appear to have greater concerns about profits than safety. Non-azide airbag inflators are less expensive to manufacture; it is why Takata used ammonium nitrate in the first place. Takata saved about $5 per airbag by using ammonium nitrate. Multiple that by 40 million, and a company can save a substantial amount of money. For smaller manufacturers like ARC Automotive, there is an incentive to cut corners.
What do I do if I am injured by a defective airbag?
If you have sustained injuries because of a defective ARC airbag, or because of any defective auto part, you can file a product liability lawsuit. To do this, you should speak with an injury attorney. Virginia's laws are incredibly complex, and often favor corporations over victims.
Product liability falls into two categories in Virginia: negligence, and breach of warranty.
In a negligence claim, you must prove that the company failed to exercise proper care in the design or manufacturing of the product.
In a breach of warranty claim, you must show that the manufactures breach the express warranty (the safety and product information provided by the company) or the implied warranty (the implied promise that your product is safe for use).
The dangers of ammonium nitrate are well-established. A products liability attorney from Phelan Petty can review your case and determine which claim is applicable. We can also determine who is liable – ARC Automotive, the auto manufacturer, and/or the distributor – for your injuries.
Phelan Petty has successfully represented injury victims and surviving family members throughout Virginia in product liability claims. We have secured millions of dollars on behalf of clients in motor vehicle claims as well. We know the laws and how to build a case in Virginia.
If you have suffered an injury because of a defective auto part or in a car accident or truck accident, Phelan Petty may be able to help. To schedule a free consultation in our Richmond office, please call 804-980-7100 or fill out our contact form. If your injuries leave you unable to travel to us, we will make other arrangements to meet with you.