Space Heaters Can Start Home Fires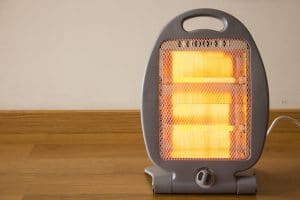 As the weather grows cooler each year, people across the country turn to portable heaters to help warm their homes, and as they do, some space heaters start home fires causing deaths, injuries, and loss of property. Virginia consumers might imagine risk of space heater fires is linked to colder, northern climates, but when the temperature drops, space heaters also start numerous fires in Virginia. As space heater fires in January 2022 demonstrate, residents of Virginia need to be as wary of space heater defects and hazards as people living farther north.
January 2022 fires spotlight space heaters as fire hazards
A nationally reported fire in a nineteen-floor Bronx New York apartment building tragically injured sixty and killed at least seventeen people on January 9, 2022. The fire spotlighted safety concerns about space heaters after the New York City Fire Commissioner announced officials were "certain" the fire started with a portable heater.
As the New York fire was being reported, Virginia also was experiencing a rash of residential fires. On January 8, 2022 a local CBS News affiliate reported twelve house fires had occurred in Central Virginia over two days, explaining "Six of the fires between Friday and Saturday happened in Central Virginia: Hopewell; Richmond; Goochland; Caroline;  Petersburg; and Cumberland. Two others happened in Fredericksburg and Stafford." On January 10, a Richmond ABC News affiliate reported that Central Virginia fires had left dozens homeless and killed two people. The American Red Cross said it had helped fifty people find housing after responding to seventeen fires statewide.
While the causes of each of the fires were not reported at this writing, officials stated that a fire in Petersburg and one in Richmond off the Midlothian Turnpike were both started by space heaters. A report from Portsmouth Virginia similarly said a space heater ignited "combustibles" to start a fire displacing six people from a two-story home.
Fire officials from Wheeling, Richmond, Charlottesville, Portsmouth, Roanoke, and Petersburg, to name a few, along with a spokesperson from the Virginia Red Cross all issued statements warning the public about the risks of home fires from space heaters and providing safety tips to avoid them.
The home fire dangers of space heaters
The Consumer Product Safety Commission (CPSC) responded to the news the Bronx fire started with a space heater by committing to examine the role the space heater may have played and promising assistance to New York fire investigators. CPSC Chairman Alex Hoehn-Saric stated, "If it's a defective product, we will take action." On average, defective products cause about 30 million injuries and 22,000 deaths annually in the United States.
Space heaters have long been recognized as presenting a fire hazard. Many portable space heaters run on electricity, including fan-forced heaters, ceramic heaters, infrared heaters, and models using oil or water-filled radiators. Other types of space heaters may burn volatile fuels. Today the CPSC estimates that portable heaters are involved in 1,700 fires per year, resulting in 80 deaths and 160 injuries. The National Fire Protection Agency's (NFPA) Home Structure Fires October 2021 report listed "Heating equipment" as "the second leading cause of home fires and home fire injuries and the third leading cause of home fire deaths and direct property damage from 2015 to 2019." Specifically, space heaters accounted for 15% of all home fire deaths.
The CPSC has issued numerous recalls for a number of dangerous space heaters during the last twenty years, including:
Amazon Basics 1500 Watt Ceramic Space Heaters
Heat Hero ceramic space heaters
Vornado Air Personal Vortex electric space heaters
Optimus Portable Infrared Radiant Quartz electric space heaters
Dyson Bladeless Portable Heaters
Many of these heaters actually caught fire, and others caused damage to power outlets. The Vornado Air heater was specifically linked to one death, but hundreds of people die each year because of space heaters.
What can consumers do avoid home fires from space heaters?
Consumers should buy safe heaters and use them carefully. Both the CPSC and NFPA recommend that consumers only purchase and use space heaters certified from an approved laboratory such as UL, since the certification means the product has been tested safe to current regulations. Chair of the CPSC Alexander Hoen-Sarick explains, "If you don't buy one that has been certified, then you're running the risk of not meeting the voluntary standards that are out there." (While standards and regulations may be searched through the CPSC website, voluntary standards develop over the years and are difficult for laypersons to track.)  Since consumers are not always aware of product recalls, and some recalled products may still remain in the marketplace, Hoen-Sarick also recommends consumers search recalls on the CPSC website before using their space heaters or buying another one.
Consumers also can look for some established safety features on space heaters, such as automatic turn off switches that work when heaters tip over, overheating protection, and 117 degree temperature limits that prevent heaters from setting close items on fire. Consumer Reports awards heaters safety ratings based on how well they demonstrate these features by giving space heaters a "tip test" to see if the heater shuts off in under ten seconds after it is tipped over; an "overheat test"  to see if a heater wrapped in fabric shuts off in under two minutes without scorching the fabric; and the "drape test" to see if a heater with part of its outlet covered with cloth either shuts off in two minutes, or runs for thirty without scorching the fabric. Consumer Reports also recommends consumers look for sturdy electrical cords and a ground-fault circuit interrupter if they will be using the heater around water.
Consumers should also use space heaters safely. These commonsense steps can help keep you safe:
Set space heaters on a bare, flat floor, never on rugs, carpets, or tables,
Keep space heaters out of the flow of foot traffic and at least three feet from flammable materials such as bedding, drapes, furniture, or clothing,
Keep children and pets away from space heaters, and never leave a heater in a child's room,
Never run a heater while you sleep or close to a sleeping person,
Turn off the heater when you leave the area,
Do not use a heater in a workshop or garage near paint, gas cans, or matches,
Unplug the heater when not in use by carefully pulling the plug straight from the outlet,
Check the cord and plug for damage periodically, and do not use the heater if it has a frayed or damaged cord or plug,
Do not plug the heater into an extension cord,
Do not plug another electrical device or an extension cord into the same outlet as the heater, and.
Install working smoke alarms on every level of your home and in every bedroom.
If you or someone you love is injured in a home fire by a dangerous space heater, Phelan Petty can help. Our experienced Richmond-based product liability attorneys protect the rights of Virginia consumers injured by dangerous products. The We work to hold manufacturers and distributors of products responsible when they allow dangerous products on the market. To schedule a free consultation, call us in Richmond at 804-980-7100 or fill out the contact form.