Suffocation Danger Associated with Nursing Pillows and Baby Loungers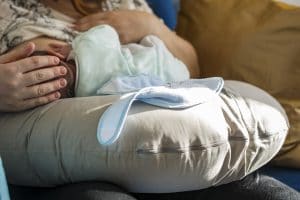 The Consumer Product Safety Commission (CPSC) has issued a serious warning to consumers regarding nursing pillows, lounging pads, and related products. According to the CPSC, they pose a significant suffocation hazard to infants and older babies. These products are safe for use when babies are awake, but a number of children have tragically died after being left on or near these products while sleeping.
According to a review of data conducted by Consumer Reports, between 2012 and 2018, 28 infant deaths occurred in relation to the use of these products.
The cause of infant deaths from nursing pillows and baby loungers
The issue found with these pillows and pads is that babies have a tendency to roll over and turn their faces into the pillow, which blocks their airflow and breathing. In some scenarios, babies in this position do not have the strength to move away from this position, leading to death from suffocation.
According to the American Academy of Pediatrics (AAP), babies should sleep unrestrained, alone, on their backs on a flat, firm surface that includes no bedding or soft padding.
Although nursing pillows and lounging pads are not designed or intended for infants and babies to sleep, many consumers are simply unaware of this fact. The softness of these pillows and pads makes them naturally attractive as something which may be comfortable for their babies, so they use them for this purpose.
Consumer Reports published three cases of infant deaths reported to the CPSC. Each of the cases detailed a similar account – the baby was placed onto a nursing pillow. In just a short period of time – 15 minutes, for example – the baby was found face-down on the pillow, having suffocated.
Nursing pillow and lounge pad manufacturers
The warning issued by the CPSC affects nursing pillows and baby loungers manufactured by:
Ergobaby
Boppy
Leachco
Blessed Nest
Zenoff Products/My Brest Friend
Luna Lullaby
Boppy's line of pillow products for infants includes instructions explaining potential suffocation hazards and warns parents not to leave a baby unobserved or face down on the pillow. The pillows are also never to be used in a bassinet, crib, or play area, inside or outside.
If your baby was injured or died as a result of a defective pillow or lounger, you may have a claim for damages through either a product liability injury or wrongful death lawsuit. Potential liable parties may include the manufacturer, distributor, retailer, or product designer. Proving negligence or breach of warranty and medical causation is tough in these cases, which is why you need experienced Virginia product liability lawyers.
At Phelan Petty, we understand what it takes to prove product liability and wrongful death cases resulting from the use of children's products. To arrange a free consultation about your case with a Richmond product liability or wrongful death attorney from our team, call us today at 804.980.7100, or reach us through our contact form.