"Take a Moment" for Pedestrian and Bicycle Safety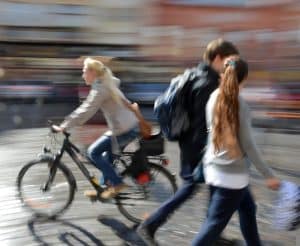 Pedestrians and bicyclists are the most overlooked people on the road, and drivers do not take the same precautions to avoid pedestrians as they do other vehicles. The City of Richmond and its surrounding Counties, Henrico and Chesterfield, should follow the lead of Fairfax County, which is urging everyone to "take a moment" with a new initiative to improve road safety.
County officials urge people to make eye contact on the roads, trails, and sidewalks. Jeff McKay, chairman of the county board of supervisors, said the aim of the program is "to get people in the community to simply take a moment while they're out on our roads, trails and sidewalks to become aware of what's around them."
One cyclist who had been in an accident detailed his experience when he was struck by a driver who did not see him. The cyclist, Steve Steiner, racked up over $100,000 in medical bills from the incident. Medical bills of this magnitude are not uncommon in automobile versus bicycle or pedestrian accidents, and it is imperative to have a Richmond injury lawyer investigate your accident and secure compensation for your losses.
Causes of pedestrian and bicycle accidents in Virginia
According to the Virginia DMV, there were 236 speed-related fatalities for the latest reporting year. Speeding is often the cause of significant traffic accidents and injuries. While speeding is a prevalent cause of these accidents, there are others, like:
Reckless driving behaviors
Running a red light
Poor maintenance of sidewalks, streets, and crosswalks
Broken traffic lights
Distracted driving
Traffic congestion
No safe passage for a pedestrian or cyclist
Chain reaction accidents
Pedestrians and cyclists have a duty to cross where there is a crosswalk or intersection. While you follow the posted signs, drivers can and do ignore you, which often leads to an accident. A driver making a right turn is the most dangerous because while you have the right of way, they are speeding and turning the corner quickly. You enter the crosswalk, and a tragedy ensues.
What are the most serious pedestrian accident injuries
A bicycle or pedestrian are no match for a car or truck. The injuries suffered in these types of automobile or truck accidents require months or years of treatment and are very costly. The injured cyclist or pedestrian typically requires surgery, physical therapy, and other rehabilitative care. Common injuries from a pedestrian accident include:
Organ damage
Internal bleeding
Scarring
Broken bones
Soft tissue injuries
Lacerations
Disfigurement
Often, pedestrian and bicycle accidents are fatal, due to the size and speed of the vehicle involved. If your loved one was killed in a Richmond bicycle or pedestrian accident, you have the option of filing a Richmond wrongful death claim.
Who may be liable in a Richmond bicycle accident?
After a bicycle accident, you must take legal action to recover money for your losses which are often extensive. Imagine being airlifted from the scene. The helicopter ride alone will be in the tens of thousands, and that does not include any treatment you get at the hospital or need in the future. Your medical bills will quickly skyrocket, reaching the hundreds of thousands. Someone must pay for these expenses, and it should not be you. Several parties may be responsible for paying for your loss, including the:
Driver: Most pedestrian accidents involve one vehicle, and the driver will be issued fault and therefore be on the hook for your losses.
Driver's employer: If the driver is within the scope of their employment at the time of the accident, their employer will also share responsibility.
Automaker: If there is a vehicle or part defect, the manufacturer can share responsibility for endangering the driver and others.
Local government: When local governments do not maintain the roads and invest in infrastructure, it is dangerous for pedestrians and cyclists. Suppose a crosswalk is unsafe or missing, and an accident occurs; the local municipality is responsible in part for paying your losses.
Fairfax County officials have pledged $100 million over the next six years towards pedestrian safety by improving the infrastructure. However, if the governments surrounding Henrico or Chesterfield counties do not take steps toward safety, they will likely see many pedestrian accident lawsuits.
Damages for pedestrian accidents
You might assume that you will be reimbursed for your medical expenses, but there are other expenses you will incur due to the accident. Many victims only think about damages for the medical costs they have already incurred and do not consider the future. Our Richmond injury lawyers will look at your circumstances as a whole and determine all of the damages you can recover, like:
Pain and suffering
Loss of companionship
Lost wages
Estimated lost future earnings
Loss of benefits
Future medical expenses
Disability
Home and vehicle modification
In-home care costs
Wrongful death claims give families the right to claim funeral and burial expenses. Our attorneys can also explain when punitive damages may apply. Your Richmond pedestrian lawyer will need to consider several factors, then come up with a demand letter and negotiate with insurance companies on your behalf.
Pedestrian fatalities are a widespread issue, and there are 6,516 pedestrian deaths yearly, according to data from the NHTSA. These deaths are preventable if drivers take a moment to look around when they reach an intersection. Speeding is a leading cause of these accidents, and drivers must slow down to ensure they can react to a cyclist or pedestrian crossing the street. Everyone must do their part to avoid these accidents, requiring more than taking a moment.
If you suffer an injury from a pedestrian accident, you need Phelan Petty at your side. Call our office at 804-980-7100, or submit our contact form to schedule a consultation in our Richmond office. We serve clients throughout Virginia.