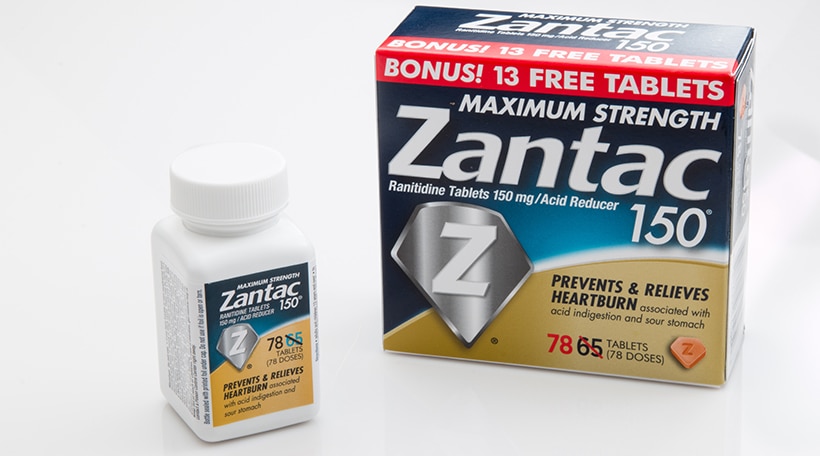 Richmond Zantac and Ranitidine Attorneys
Aggressive advocacy for consumers exposed to NDMA carcinogens
Zantac is the brand name of a popular heartburn medication known as ranitidine. This type of drug is an H2 blocker, sometimes called an H2 antagonist, which decreases acids in the stomach. Physicians and other healthcare professionals prescribe Zantac to treat gastroesophageal reflux disease, peptic ulcers, and other related conditions. Ranitidine is also available to consumers over the counter.
However, Zantac is no longer on pharmacy or store shelves after the Food and Drug Administration (FDA) found the drug may contain carcinogenic contaminants. These contaminants are linked to a variety of cancers, including stomach cancer and colon cancer. As a result, the long-term use of ranitidine may be responsible if you or a loved one developed cancer. Although the FDA announced a blanket recall of these types of products, for some consumers, this action may have come too late.
At Phelan Petty, our Richmond dangerous drug attorneys protect Virginians harmed by unsafe medications. We fight on your behalf for compensation for your injuries and losses – not only for you, but to ensure pharmaceutical companies stop putting dangerous products on the market. We will take action.
What types of dangerous drug cases do you handle?
An adverse drug event (ADE) is an injury resulting from the use of a drug for medical intervention. According to the Centers for Disease Control and Prevention (CDC), ADEs account for approximately one million emergency room visits each year and over three million physician office visits. Nearly any type of drug can cause injury when not tested correctly or when a manufacturing error occurs. Anything from blood pressure pills to anti-depressants to heartburn medication can harm patients, sometimes causing long-term health problems.
Our Richmond dangerous drug lawyers investigate and pursue cases on behalf of patients injured by medications, including:
Zantac
Actos
Invokana
Belviq
Fen-phen
Low T drugs
Valsartan
Provigil (modafinil) and
Nuvigil (armodafinil)
Zyprexa
Opioid litigation
Xeljanz
What are common injuries from dangerous and defective drugs?
Taking a drug may be beneficial for your health – in fact, that is the point of medication. However, when an unsafe drug makes it onto the market, it can have negative and long-lasting effects on the body. You or your loved one may suffer pain and side effects that can either make your condition worse, or cause other, more serious health consequences, including:
Cardiovascular damage
Heart attacks
Kidney damage
Organ damage and failure
Pulmonary dysfunction
Strokes
Wrongful death
The side effects and injuries from dangerous drugs can vary widely depending on the purpose of the medication and the specific patient's circumstances. Our Richmond injury lawyers will investigate what caused your injuries and who is responsible.

Who is liable for my Richmond dangerous drug claim?
Drug manufacturers are typically liable for dangerous and unsafe drugs when they cause patients and consumers injury. However, it is possible for other parties to face accountability as well. Our attorneys work to discover if there are other liable companies or individuals, including:
Doctors or hospitals that prescribe the drugs
Drug testing facilities
Pharmacists and pharmacies
Pharmaceutical sales reps
Identification of all liable parties in your defective drug claim is crucial to a successful case. Because Virginia allows only two years from the date of injury (or discovery of injury) to file a claim, the sooner you contact our firm, the sooner we can begin working on your case.

What should I do if I am injured by a defective drug?
If you suffer harm or injury by a dangerous or recalled drug, it is important you preserve your right to compensation. We recommend taking the following steps:
Do not minimize or ignore side effects. Your medication side effect list should include those that necessitate an ER trip or 911 call. If you feel something is not right, call a medical care provider immediately.
Be honest with your physician about all drugs you are taking, including all over-the-counter medicines and supplements. This can help inform if you have experienced a serious drug interaction.
Keep all the packaging that came with your medication, including the receipt and pharmacy that filled the prescription. Note down when you began experiencing side effects, as well as any medical documentation from treatment needed from your injuries.
Then, contact an experienced law firm to investigate your case. Phelan Petty has the resources and strategies to seek the compensation you need to recover from your injuries.
Note: Do not stop taking medication without consulting your prescribing physician first. If you have heard about a recall or are experiencing side effects, it is important to seek medical advice before quitting a drug completely.

What is my Richmond dangerous drug claim worth?
Defective and dangerous drug claims generally fall under product liability, which means that when manufacturers create, manufacture, and distribute unsafe products, they can be held responsible when consumers are injured or harmed. Although every case and every patient's injuries are different, our attorneys seek maximum financial compensation for your damages and losses, including:
Medical expenses (past, current, and future)
Lost wages and future earning potential
Pain and suffering
In some cases, when a pharmaceutical company is particularly or recklessly negligent, the court may award punitive damages to the injured. These damages are meant to further punish the responsible party as well as deter them from future negligent behavior.

Richmond dangerous pharmaceutical drug injury lawyers
If you or a loved one suffered serious side effects from unsafe drugs, the attorneys at Phelan Petty want to hear from you. We are prepared to take on the negligent drug companies and we are prepared to win. When you are harmed by defective prescription or OTC medications, we seek compensation on your behalf. Let us help. To schedule a free consultation, please call 804-980-7100 or fill out the contact form. Our offices are located near I-64 and Route 250 in Richmond.