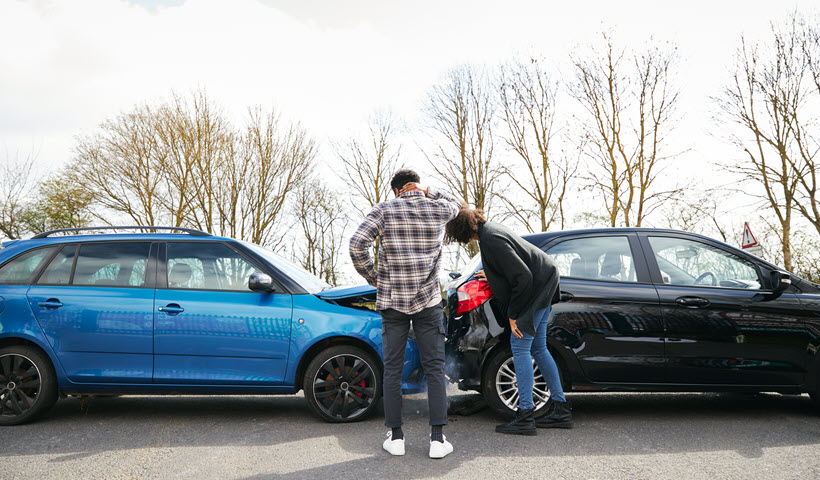 Richmond Rear-End Accident Lawyers
Experienced representation when a driver slams into the rear of your car in Virginia
Rear-end accidents are the most common types of car crashes there are – but being common does not make them less serious. They can cause permanent injuries that never fully heal. Some rear-end accidents, especially at high speeds, can be fatal.
At Phelan Petty, our Richmond-based injury lawyers are skilled at holding the driver who caused the accident liable for your losses. We prepare every car accident case we take for trial, which has helped us secure millions of dollars in verdicts and settlements on behalf of our Virginia clients. If you or a loved one was injured in rear-end collision, we want to help. Contact us today to get started on your case.
How can we help?
Common causes of Richmond rear-end collisions
The most common reason for rear-end accidents is that the driver behind you was irresponsible in one of the following ways:
In some cases, however, the accident may be due to defective auto parts, such as brakes or tires. If a defective product was the root cause of the crash, we can discuss filing a product liability claim.
How is liability in rear-end accidents in Richmond determined?
The liability part of a rear-end accident can be straightforward. The key evidence is showing the damage to the rear of your car (the fenders, the trunk, electric systems, and the rear side of your car) and the damage to the front of the car that struck you. With testimony confirming that the other vehicle struck you and that you were stopped waiting for a light to change or traffic to flow, insurance companies and juries should see that the driver of the vehicle behind you caused your accident.
Of course, what "should be" clear to an insurance company will not prevent them from trying to deny your claim, or fighting back against the damages you seek. This is one reason hiring a car accident attorney is the right move, even in a supposedly clear-cut case. At Phelan Petty, we know that every case we take deserves our full and total attention, and we do not back down to insurance companies. Our only goal is to ensure that you get the help you need.
Who is liable in a chain reaction accident?
Chain reaction accidents have different liability concerns than rear-end crashes involving only two vehicles.
Our Richmond-based car accident lawyers understand the unique challenges involved in chain reaction accidents in Virginia:
There are often multiple defendants. While the moving vehicle that started the first crash is primarily liable, the other cars may have some responsibility if they were too close to the car in front of them, were moving even though the light was red, or for other reasons.
When there are multiple defendants, there are multiple insurance policies involved – with each insurance company blaming the other drivers.
If the vehicle that started that made the first impact with a parked car was driven by someone who was working for an employer (such as a delivery driver), the employer may also be liable.
The complexity of the case can increase based on the number and type of vehicles. Multi-vehicle collisions involving 18-wheelers or government vehicles, for example, will almost always present additional challenges. These cases can be further complicated if one or more people involved sustained substantial or even fatal injuries.
What can I do if I'm rear-ended by a hit-and-run driver in Richmond?
Some drivers aren't aware they struck your car and move on without stopping. An example is an intoxicated driver. Some drivers don't have insurance so they don't stop and render assistance even though they are required to do so.
In these hit-and-run cases, we work with the police and our investigators to try to discover the identity of the hit-and-run driver. If we are successful, we file a claim against that driver. If the driver cannot be found or if the driver did not have enough insurance, we file an uninsured/underinsured (UM/UIM) claim with your own insurance company – provided you purchased UM/UIM coverage.

What types of injuries does a rear-end accident cause?
In the "best case" scenario, a rear-end collision may leave you a little bruised and uncomfortable, but with injuries that will heal in time. In our years working with plaintiffs, however, we have seen firsthand just how devastating these collisions can be, especially at high speeds. Rear-end crashes can cause severe whiplash, spinal cord damage, paralysis, traumatic brain injuries, broken bones, internal organ damage, back pain, neck pain, shoulder pain, nerve damage, and other long-term injuries. Many of our clients require expensive and painful medical procedures, such as spinal fusions, and may require months or years of therapy.
In the worst case scenario, however, a rear-end crash will lead to fatal injuries. if this is the case, Phelan Petty can help you file a wrongful death lawsuit against any liable parties.

How much is my rear-end accident claim worth?
The value of your Richmond rear-end accident case is based on your losses, both economic and non-economic. You may be entitled to receive compensation for:
Your current and future medical bills
Your current and future income loss
Your daily physical and/or emotional pain and suffering
Any scarring or disfigurement
Property damage
Other financial and personal losses that may apply
Calculating the full value for these losses takes experience and skill. A Phelan Petty, we offer both. We have an extensive network of medical and financial experts with whom we work to ensure that we understand the full extent of your injuries and losses. Armed with this information, we can build a case for compensation for you and your loved ones.
Do you have a rear-end accident lawyer near me?
Phelan Petty's law office is located at 3315 West Broad Street in Richmond. There are several courthouses close to our office. We can meet injured drivers and passengers at their homes or a healthcare facility if they are physically unable to come to our office. Video and phone conferences by appointment are also an option.
Our lawyers will explain your rights, work with your doctors, and work to maximize your claim.
Talk with an experienced Richmond rear-end accident lawyer today
One moment, you're waiting for your turn to drive through an intersection. The next moment, the careless driver behind you just made your life miserable. At Phelan Petty, our Richmond car accident lawyers hold the drivers who crashed into you accountable. Our lawyers have an impressive record of settlements and jury verdicts in personal injury cases. Let us help you obtain the compensation you deserve. To review your rights with a respected trial lawyer in Richmond, call us or use our contact form to schedule a free consultation. We represent personal injury victims throughout Virginia.