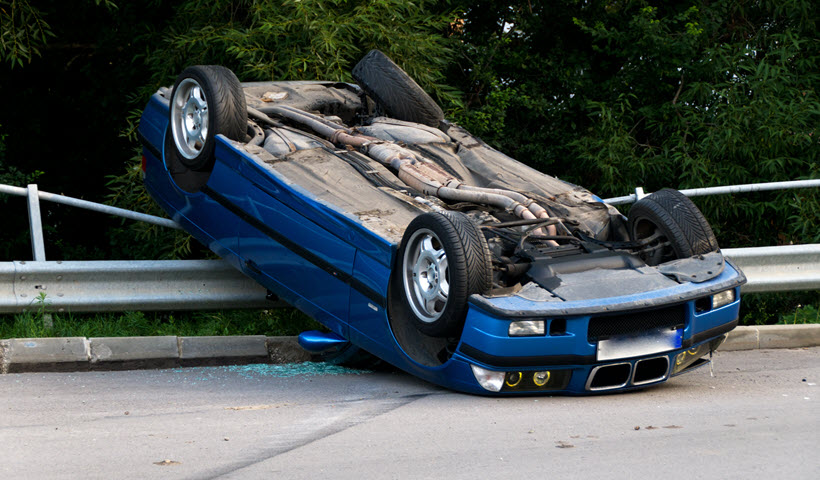 Richmond Rollover Accident Lawyers
Strong advocacy for victims of truck, SUV, van, and other rollover crashes in Virginia
Rollover accidents involve vehicles that roll over due to physical forces, such as when a vehicle with a high center of gravity rolls over when a driver takes a turn too quickly. Rollover accidents also involve some external event that forces the rollover, like when a vehicle is involved in an accident or rides up on the curb or shoulder of a road. What's common about both types of rollovers is that the consequences of these crashes are often catastrophic or deadly.
When vehicles roll over, the negligent party should be held accountable. At Phelan Petty, our car accident and truck accident lawyers have the experience and resources to show why rollover accidents happen and how they could have been prevented. We work with your doctors to show just how life-changing your injuries are. We represent clients in Richmond and across Virginia when a rollover accident leads to injuries and losses. Contact our attorneys today to get started on your case.
How can we help?
How deadly are rollover accidents?
In 2021, 7,640 vehicle occupants died in rollover accidents. Per the Insurance Institute for Highway Safety, "Although most rollovers (76 percent) were associated with a pre-rollover impact, a substantial proportion (24 percent) rolled over without having impacted anything beforehand."
What types of vehicles are prone to rollover accidents?
While smaller passenger cars like sedans or coupes generally are the least likely vehicle to roll over due to natural forces, they can roll over if they collide with another object, such as a curb or other vehicle. Light trucks and large commercial trucks have a greater propensity to roll over than passenger cars, in part, because their center of gravity is different. Jeeps are well-known rollover risks. SUVs do tend to roll over. Vans, due to their height, have a very high tendency to roll over too.
Vehicles are also more likely to roll over when they are heavily loaded with people or objects. Other factors that increase the risk of a rollover include vehicles with a high center of mass, speeding, steering sensitivity, and other factors. Manufacturers should post warnings about any vehicle's risk of rolling over.

What are the causes of rollover accidents in Richmond?
Some of the reasons vehicle rollovers occur in Richmond and across Virginia include:
Loss of control of the vehicle. A driver may lose control of their vehicle to the point it rolls over if they drive:

While impaired by alcohol or drugs.
While distracted such as by texting while driving, using a cell phone, or eating or drinking while driving.
While driving on slick or slippery surfaces such as during or after rainfall.
While transporting cargo. When the cargo shifts or spills, the truck driver may lose control of the vehicle.

Speeding. Speeding increases the chances a driver will lose control of his/her vehicle, strike an object on the road, or collide with another car. Speeding also increases the force on any vehicle which increases the risk of a rollover.
Construction work. The risk of a rollover increases where road surfaces are uneven or roads are unfinished in some way. When the right side of the car isn't level with the left side, that increases the risk of a rollover accident.
Any time a vehicle strikes another vehicle or is struck by another vehicle, the odds of a rollover increase – especially when the front of one car strikes the side of another car or the sides of both cars strike each other.
Defective vehicle parts can also cause rollover accidents.
Tripped vs. untripped rollovers
Rollover accidents are broken into the two types:
Untripped rollovers. These are rollovers that do not involve an external event. They occur when various physical forces (centrifugal force, centripetal force, and gravity) act on the car or truck to destabilize the vehicle and cause it to roll over. Untripped rollovers often occur when a driver is speeding, especially when the driver is traveling above the speed limit while traveling through a curve. The danger of rollovers is one reason curved roads (such as on-off ramps) have lower speed limits than straight roads.
Tripped rollovers. These rollover accidents happen when the vehicle hits a barrier or an object on the road, the driver rides up on the curb of a road or an embankment, or the vehicle rolls over when it collides with another vehicle.
Trucks, SUVs, vans, and other vehicles may roll over on their side or they may roll over on their top.
What safety protocols can help prevent rollover accidents?
Drivers should exercise the following safety precautions before and during any travels:
Check tire pressure. Tires that are below recommended pressure levels have an increased risk of a blowout. A blowout can cause a driver to lose control of a vehicle. Tires that are above recommended pressure levels have an increased risk of a rollover after striking a pothole or any object in the road.
Exercise caution. Drivers should never drink and drive or speed. Drivers should drive slower in bad weather. It's important to slow down before entering a curve, not when the driver is in the curve.
Keep a safe distance. Tailgating is a dangerous practice, but a driver who is too close to another vehicle can end up rolling over if they hit that vehicle, or if they swerve to avoid it.
Manufacturers should test their vehicles for an increased risk of a rollover. If a vehicle has increased rollover risk, the owner should be warned of this danger.
Government entities and agencies that design and maintain roads should avoid road conditions that may lead to a rollover accident. These governmental entities should also warn drivers of known rollover risks on the highways they control, such as by posting signs before the danger sites.
What types of injuries do rollover crashes cause?
Rollover accidents often cause catastrophic and permanent injuries due to the extreme forces on the car and the occupants in the car. Our lawyers have the experience and medical network to fight for any rollover victim who has any of the following injuries:
Broken bones
Crush injuries including internal organ damage and broken ribs
Back, neck, and shoulder pain
Any other type of serious injury
Our Richmond-based rollover accident lawyers file personal injury claims on behalf of any injured driver or passenger who is injured in a Virginia rollover accident due to the negligence of another driver. We also file wrongful death claims on behalf of the families when a loved one is killed in a rollover accident.
Do you have a rollover accident lawyer near me?
Our Richmond-based rollover accident lawyers meet accident victims and families at our office located at 3315 West Broad Street. We meet clients at their homes or a hospital if they are too injured or sick to come to our office. We also offer phone and video conferences by appointment.
Our seasoned trial lawyers will guide you through the claims process, one step at a time.
Contact our experienced Richmond rollover accident attorneys now
We understand how frightened you are. You're worried about your health and how you'll pay your bills. You're in pain. At Phelan Petty, we work aggressively to restore your ability to function and live the life you hoped for before your car accident happened. Our Richmond rollover accident lawyers are skilled trial lawyers. We work to construct the strongest case possible and will try your case before a Virginia jury if that is the best option for you. To discuss your claim with a respected personal injury lawyer, call us or use our contact form to schedule a free consultation. We represent personal injury victims across Virginia.