Examples of Defective Product Claims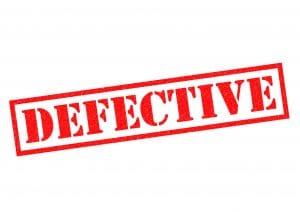 If you have been injured because of a defective product, you may have grounds to file a product liability lawsuit against one or more responsible parties, such as the designer, manufacturer, retailer, or distributor.
Below are some of the common defective products sold on the marketplace.
Motor vehicles components
Car crashes lead the way when it comes to unintentional injuries and fatalities in the U.S. Many car crashes are the result of driver error, but others involve defective car parts. Some parts of a vehicle that are too often found defective and result in recalls, injuries, or worse include:
Braking systems
Fuel injectors
Steering systems
Ignitions
Seat belts
Medications
Most people are under the false impression that the FDA tests pharmaceutical drugs before they are allowed into the marketplace. The FDA does not have the resources to do independent testing, so it relies on the drug manufacturers to do and report the results of their own testing. There have been drugs, like thalidomide, for which testing in foreign companies was not reported to the U.S. regulatory agencies during the initial approval period. As a result, in the 1950s and 1960s, about 10,000 babies were born with severe defects after their mothers took thalidomide during pregnancy. Moreover, the 510(k) process for approval allows dangerous drugs to make it to market without any testing if the manufacturer convinces the FDA that the drug is substantially similar to one that has already been approved. Other times, contaminants make it into the medications themselves. If a drug or medication leads to harmful health effects that are not listed or disclosed, consumers may be able to file a product liability claim.
Household appliances
Household products and appliances sometimes cause unexpected injuries to consumers. Space heaters, for example, can lead to fires, and generators and refrigerators can lead to toxic exposure. The types of appliances that have been known to cause injuries more often include:
Defective water heaters
Defective hair dryers
Kitchen rangers without an anti-tip mechanism
Clothes dryers that store too much lint and catch on fire
Children's products
A children's product that is defective due to its design, manufacture or inadequate warnings can be a deadly hazard. Some toys, for example can become choking hazards while others have contained lead and caused serious illnesses. The most serious injuries, however, are often caused by design defects in other types of children's products. Among the most dangerous and potentially deadly are:
Flammable children's clothing
Car seats and booster seats
Bicycles, tricycles, and other non-motorized vehicles
Safety equipment like helmets and knee pads
Infant sleepers and swings
Stollers and carriers
Legal options if you suffer injuries from a defective product
Mass tort cases: These cases involve individual lawsuits from plaintiffs that are consolidated for discovery by a court in a single federal or state court. This promotes an efficient movement of pre-trial proceedings.
Class action lawsuits: These cases involve the joining of the claims of multiple plaintiffs into one single lawsuit. One or several of the individuals whose cases can represent the other members in the suit may serve as named plaintiffs.
Individual lawsuits. You can file your own individual lawsuit or claim against a liable party if you are hurt by a defective product.
You may be entitled to significant compensation if a defective product has left you injured. You may be eligible to received money for lost wages, medical bills, and pain and suffering. To setup a free case review, call the Richmond defective product attorneys of Phelan Petty at 804.980.7100, or leave us a message through our contact form. We represent clients throughout Virginia.
Related: Exactech Knee and Ankle Implant Recall